Reese Witherspoon, Olivia Wilde And Other Stars Take the #PuberMe Challenge
It's awkward…for a good cause.
---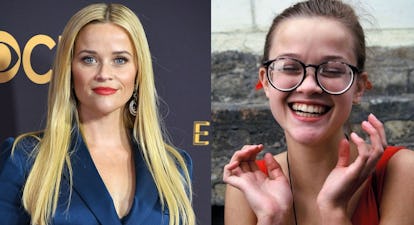 Getty, Instagram
To raise money for Hurricane Maria relief—and, not coincidentally, in keeping with the theme of his new animated Netflix series about adolescents, Big Mouth—Nick Kroll started the #PuberMe challenge in an appearance on Colbert on Wednesday. Since then, tons of celebrities, from Lena Dunham to Reese Witherspoon, have joined the cause.
The idea is simple: Stephen Colbert promised to donate funds from his Americone Dream Foundation (raised by sales of his Ben and Jerry's flavor Americone Dream, which is actually pretty tasty) to help Puerto Rico relief efforts every time a celebrity posts an awkward "before puberty" picture online, and Kroll will match the donation. It's kind of genius. When all it takes to do a good thing is posting a picture of yourself, you bet actors are into it. By now, Instagram and Twitter have been flooded with #PuberMe pictures:
Reese Witherspoon was utterly adorable:
Olivia Wilde mourned her brows:
Lena Dunham was not kitten around:
Judd Apatow rocked the Fred Perry:
Busy Phillips was crimped and witchy:
America Ferrera posted a shot from iconic Disney Channel Original movie Gotta Kick It Up!:
Samantha Bee let her bangs do the talking:
Gina Rodriguez embraced her braces:
Rachel Bloom won a contest:
Jimmy Fallon wore this:
Former New York Mayor Michael Bloomberg made a little joke:
Sarah Silverman repped the Sox:
Lena Headey rode a horse:
Andy Cohen murdered cats for practice:
Colin Jost wanted to know if you'd heard the Good News:
Mayim Bialik gave us Blossom flashbacks:
Kathy Griffin revealed a lot of information:
Gillian Jacobs was pretty darn cute:
John Oliver was pretty darn awkward:
Adam Scott was a big fan of the Seaver family:
Emmy Rossum was a small angel:
Lin-Manuel Miranda posted an old video he apparently made as a kid after a trip to Puerto Rico. Naturally, he's singing in it.
…but the winner of this challenge, if there is one, is certainly Brooklyn 99's Chelsea Peretti:
Watch: Samantha Bee and Jason Jones, Former 'Daily Show' Correspondents and Real-Life Couple, Discuss Falling in Love
Samantha Bee and Jason Jones, Former 'Daily Show' Correspondents and Real-Life Couple, Discuss Falling in Love