Selena Gomez Trades In Her Bob for a Freshly Shaved Undercut
And it's not what you would expect.
---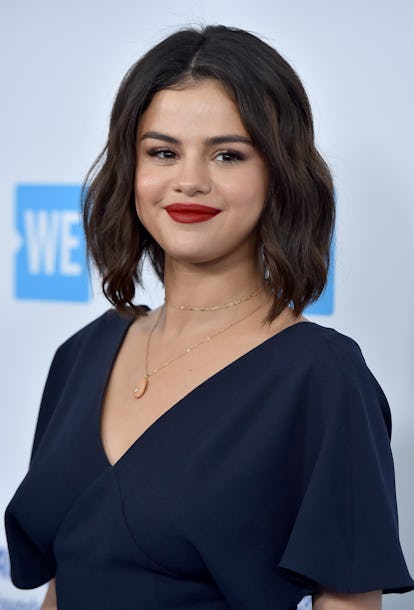 Getty.
From platinum blonde waves to brow-skimming bangs and ultra-chopped spring-approved bobs, Selena Gomez has tried just about every hairstyle—in 2018 alone. But now the starlet is taking on her most daring transformation yet, debuting on Monday morning a freshly shaved undercut. Taking to Instagram to show off her new 'do, the Puma ambassador, who is currently in Germany celebrating her first shoe collaboration with the brand, proves that even the most understated detail can have a dramatic effect.
"Always need a subtle change. @puma Germany family time ? grateful for the welcome!" Gomez shared with her 136 millions followers, flaunting a supersleek braided high ponytail with a freshly buzzed triangular-shape undercut styled by Gomez's longtime hairstylist, Marissa Marino. "My girl #selenagomez at it again…she loves to keep me on my toes! Thanks @timduenashair for making her undercut dreams come true!" Marino shared, implying the spontaneity of Gomez's sudden transformation. The hairstylist who gave the 25-year-old starlet her new cut, Tim Dueñas, also took to Instagram to share, "When your friend calls you to give @selenagomez an undercut… @marissa.marino killing it with the styling. Thanks for letting me join in on the fun." The "Hands to Myself" singer paired her sporty-chic aesthetic with oversize silver hoops and monochromatic tones of shimmery coral eyes, lips and cheeks created by Gomez's longtime makeup artist, Hung Vanngo.
In a recent wave of millennial pink locks and ultra-cropped bobs displayed on stars like Hailey Baldwin, Busy Philipps, and Margot Robbie taking over the red carpet, the ever-growing hair trends don't seem to be going anywhere soon this season. However, having already sported a chin-grazing bob for the spring, as the trendsetter she is, Gomez is already steps ahead into her summer look, and we can't help but think other starlets will follow suit. Stay tuned.
Selena Gomez, Kim Kardashian, And Adriana Lima Share Their Favorite Beauty Rules To Break
For singer Zendaya, a balance of drinking water and a consistent routine is key. "Just 'drinking more water' does not replace a skincare routine. It's good for you no doubt, but it will not make all your blemishes disappear overnight, especially for those with problem skin," she said.

@zendaya
Self-made beauty guru Kim Kardashian believes that, "the beauty myth that your brows should always match your hair" isn't something you have to follow. "I completely disagree. It can be more flattering if your brows are darker than your hair to warm up your face. Dark brows can be bold especially if your hair is platinum."

@kimkardashian
For Mexican actress Eiza Gonzalez, her beauty routine is all about staying natural, sharing that the use aggressive treatments and laser on your skin can be harsh and that "there's so many homemade remedies that will give equal result, but will just take a bit longer."

@eizagonzalez
Victoria's Secret Angel Romee Strijd doesn't believe that,"caffeine is bad for you skin, or that less is more when it comes to moisturizer."

@romeestrijd
For Big Little Lies actress Zoë Kravitz, her message is simple sharing that,"More makeup does not = more beautiful."

@zoeisabellakravitz
Brazilian beauty Adriana Lima believes that you don't, "need a facialist or dermatologist to have healthy and glowing skin".

@adrianalima
Model Sara Sampaio believes the beauty rule,"that you can't wear an eye and lip at the same time" should be broken. "You should always do whatever makes you happy—and there's a lot of cool make-up looks that include both!"

@sarasampaio
Less is more for model Bianca Balti. "People tend to say that the "more is better" but I disagree, we should all let our natural beauty shine, using makeup that enhances our natural glow and features is what is beautiful."

@biancabalti
Singer Selena Gomez shares a liberating beauty message, telling her fans," The beauty myth- an obsession with physical perfection that traps modern woman in an endless cycle of hopelessness, self consciousness, and self-hatred as she tries to fulfill society's impossible definition of flawless beauty. I chose to take care of myself because I want to, not to prove anything to anyone."

@marissa.marino