Gwen Stefani Is Reportedly Launching a Cosmetics Line
The 2000s style icon is just the latest star to launch a signature skincare and makeup line.
---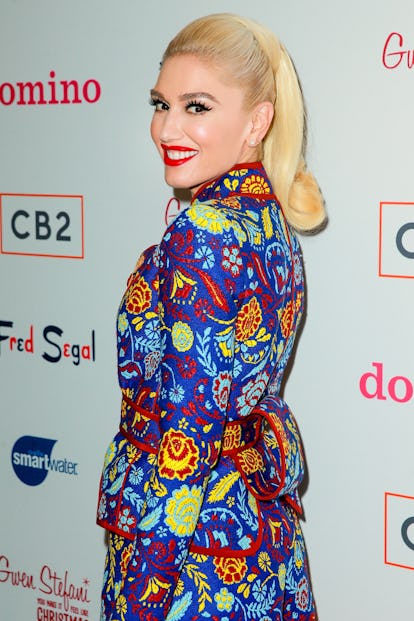 Rich Fury
As one of the most prominent style icons of the early 2000s, Gwen Stefani, once known for her wild rainbow-colored hair and colorful smoky eyes, is no stranger to the beauty space. And while the No Doubt singer's outlandish style has evolved over the years into a refined version of her signature '50s-pinup-inspired look—strikingly bold red lips, full brows, voluminous lashes—the former The Voice coach is now officially joining the beauty world with the announcement of her upcoming cosmetics line, according to TMZ.
Joining the ranks of the ever-growing list of celebrities breaking into the beauty industry, the singer is in the process of trademarking her first cosmetics line, apparently called P8NT. The highly anticipated line (pronounced "paint") will consist of a wide range of makeup and skincare, including everything from lipsticks, nail polishes, powders, fragrances, and hair dye to sunscreen and moisturizers. And while this isn't the first time the 48-year-old has dabbled in the makeup world, having previously collaborated with Urban Decay for her UD x Gwen Stefani collection back in 2015, Stefani's line seems to be arriving in a celebrity cosmetics market that is growing by the day, it feels like.
As the trend of star-aligned cosmetics lines continues to spike, with A-listers like Rihanna's Fenty Beauty, Kim Kardashian's KKW Beauty, and Kylie Jenner's Kylie Cosmetics dominating the celebrity beauty space, Stefani joins the ranks of a new tier of celebrities like tennis star Serena Williams and Khloé Kardashian, both of whom filed trademarks this year for their own personal cosmetics. With the smashing success of these signature products—KKW Beauty reportedly made $10 million in sales in one day—no wonder Stefani is getting into the beauty game. Her eccentric way with makeup has already won her a following as a pop culture beauty icon, after all.
Selena Gomez, Kim Kardashian, And Adriana Lima Share Their Favorite Beauty Rules To Break
For singer Zendaya, a balance of drinking water and a consistent routine is key. "Just 'drinking more water' does not replace a skincare routine. It's good for you no doubt, but it will not make all your blemishes disappear overnight, especially for those with problem skin," she said.

@zendaya
Self-made beauty guru Kim Kardashian believes that, "the beauty myth that your brows should always match your hair" isn't something you have to follow. "I completely disagree. It can be more flattering if your brows are darker than your hair to warm up your face. Dark brows can be bold especially if your hair is platinum."

@kimkardashian
For Mexican actress Eiza Gonzalez, her beauty routine is all about staying natural, sharing that the use aggressive treatments and laser on your skin can be harsh and that "there's so many homemade remedies that will give equal result, but will just take a bit longer."

@eizagonzalez
Victoria's Secret Angel Romee Strijd doesn't believe that,"caffeine is bad for you skin, or that less is more when it comes to moisturizer."

@romeestrijd
For Big Little Lies actress Zoë Kravitz, her message is simple sharing that,"More makeup does not = more beautiful."

@zoeisabellakravitz
Brazilian beauty Adriana Lima believes that you don't, "need a facialist or dermatologist to have healthy and glowing skin".

@adrianalima
Model Sara Sampaio believes the beauty rule,"that you can't wear an eye and lip at the same time" should be broken. "You should always do whatever makes you happy—and there's a lot of cool make-up looks that include both!"

@sarasampaio
Less is more for model Bianca Balti. "People tend to say that the "more is better" but I disagree, we should all let our natural beauty shine, using makeup that enhances our natural glow and features is what is beautiful."

@biancabalti
Singer Selena Gomez shares a liberating beauty message, telling her fans," The beauty myth- an obsession with physical perfection that traps modern woman in an endless cycle of hopelessness, self consciousness, and self-hatred as she tries to fulfill society's impossible definition of flawless beauty. I chose to take care of myself because I want to, not to prove anything to anyone."

@marissa.marino