Meghan Markle's Facialist On Why Wedding Skin Prep Should Start Months Before the Big Day
London-based facialist Nichola Joss talks about how to get your best skin ever before a big event (like a royal wedding) and more.
---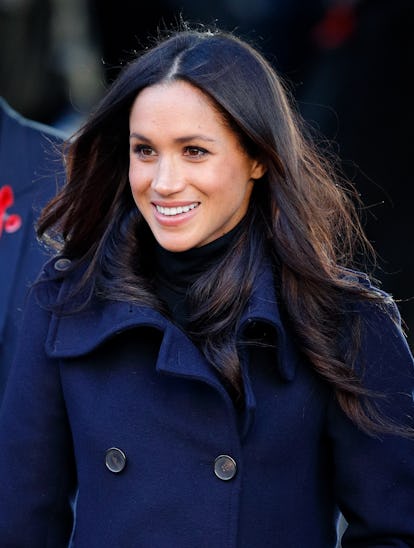 Getty.
London-based facialist Nichola Joss has long had a devout following of A-list clients, including Kate Moss, Gwyneth Paltrow, Cate Blanchett, Elle Macpherson and Scarlett Johansson. (Just some of the most gorgeous faces on the planet…) About four years ago, she added Meghan [Markle] to the list.
In an interview back in 2014, Markle said, "I do facial exercises from one of my favorite aestheticians, Nichola Joss, who basically has you sculpt your face from the inside out. I swear it works, as silly as you may feel. On the days I do it, my cheekbones and jawline are waaaay more sculpted. There's a reason she is in high demand around awards season when every actress wants to look A-plus."
These bespoke, sculpting facials are Joss's signature–they are designed to help lift the facial contours and give skin a refreshed, radiant look through deep lymphatic massage (which includes massaging inside the mouth and tongue). After evaluating the client's skin, she will discuss short and long term skin goals, design a custom facial that targets various issues and offer up tips (both for your diet and your beauty cabinet, as well as quick and easy facial massage techniques) to help improve the skin.
In an age where skincare experts are touting the benefits of Botox and fillers, and there are more anti-aging and skin tightening products and technologies than ever before, Joss is singing a different tune. Her approach to skincare is one that is dedicated to total body wellness.
"If you want good skin, you have to start from the inside," said Joss. "It's just that simple."
Here, she talks more about her holistic skincare ethos, why women in their 20s and 30s shouldn't be getting preventative Botox and wedding skin prep.
How did you first develop your unique, facial massage technique? How did you get here?
I studied biology and human anatomy at university. I wanted to do forensic pathology, so I have a really amazing understanding of the human body. Then I went to Asia and I got an international degree in beauty therapy and aesthetics. I met this man, who was a well-known massage healer, and I pestered him to take me on as an apprentice because I really loved what he was doing on the medical side, actually. He was massaging people who were ill and going through treatments and dying and getting better. His process of healing and massage was really intriguing so he did take me on and I worked with him for about 18 months and I just learned all my massage skills from him. I do a bit of healing as well and I learned those skills from him. It just broadened my mind to the positive effects that massage has on beauty and the positive effect of intention as well. He did work inside the mouth and I took my training from him and redeveloped it for beauty because I noticed how beautiful and lifted everyone looked after they had a treatment with him. I took that and made it my own and started working with it. It has been a work in progress and continually developed and changed over the years.
Everyone has a different face with different needs so you really need a good understanding of the muscle tissue, muscle structure and how people use their faces. Inside everyone's mouth is also very different so it's a really interesting journey being with different clients as well because you are constantly learning about the structure of the human body because everyone's face is so individual. That's where I started and it has just blossomed from there.
How long ago was that?
That was a lot of years ago…like 20.
You mentioned the treatment has changed and evolved over the years. Is there something you have learned recently?
I think what I have learned is fluidity within my techniques. To have the full confidence to really be fluid. In the beginning, it might have been more of a movement. Now, it's a flow, like a sculptor….I used to do a lot of pottery. It's a very similar thing. It's about manipulating and shaping the soft tissue. I guess fluidity and just constant treatment and having confidence. It's hard to put your fingers inside of someone's mouth. It's not the normal thing. It's very private, so you have to build trust with your clients. You have make them feel they are in safe hands.
You have built up an impressive celebrity following in the past 20 years. What clients were the early adopters of your techniques? How did you become the go-to facialist for some of the most beautiful people in the business?
I used to work a lot as a manicurist on magazines. I was exposed to the best people, like Serge [Normant], Sam McKnight and Pat McGrath, and I was keen to do treatments on them and they were really interested. Also, the talent that was there… when you work with the great magazines, you are working with such great talent. Elle Macpherson was really interested—I mean, she's The Body, you can't get someone better to work with. I was very lucky to work in fashion but on the beauty side of it. When you are working in an environment with the top magazines and the top talent, there is an immediate sense of trust with the glam team. I was really fortunate to be able to have that trust with great talent so early. I was very lucky to be in front of Cate Blanchett and Kate Moss.. a lot of Cate/Kate's!
Also, when I was an ambassador for St. Tropez, I handled the initial launch 20 years ago. I was in front of many celebrities, I went all over the world, I was backstage at all the fashion weeks and then the Oscars, so that exposed me to a lot of great people as well. When you are spray tanning celebrities who are completely naked, they kind of have to trust you. Well, they don't have to, but there is a sense of trust and safety.
When you have someone like a big celebrity, like Kate Moss or Cate Blanchett, who has a big red carpet event, what do you do to prep them for the big night?
Let's use the Oscars as an example. I fly out maybe five days to seven days beforehand, depending on who I am seeing and who is up for an award or who is presenting, and we work together that whole week. We would start maybe four or five days before and do these facials and even that morning of the event. Because it's not an intensive skin treatment, it's more of a well being and health treatment, it is something you can do every single day. It just makes them feel calm and feel more centered and balanced and just feel really peaceful. You look GREAT by the end of that. Your skin is healthy and full of volume and radiance. I do films as well, so I will be on set or in the makeup room so people can do as much treatment as they want.
Do you have any films you are working on right now?
Not at the moment, but maybe a few things next year. I am always optioned for stuff. I also do a lot of TV actors and stage actors as well, because the intensity of working on stage is really tough on the face.
Meghan Markle, Prince Harry's new fiancé, has been singing your praises lately… when did you start working with her?
She is so gorgeous and beautiful and smart. I have known her for about four years now.
What is it like to get a client ready for their wedding?
For weddings, you kind of have to prep the skin at least a few months leading up to it. It's the same sort of process as prepping for a big red carpet moment. This gives you a sense of balance and calmness and makes you feel alive. We can manipulate muscles to release toxins in the skin, the eyes are sparkling, you have lots of volume in the right places and you just have that face lift look. We all want that! We want it in an organic and healthy state. It's about the right prepping and timing. But even if you don't have the time, I do a lot of brides the morning of their weddings. It makes them calm, their skin looks glowing, and it's also a nice base for makeup. You are prepping the skin to get the best out of your makeup.
Are you able to share anything else about what the two of you are doing to help get her skin ready for the big event?
She looks after herself well. It's all about the balance of working out, eating well and treating your body well. But, yay! She's going to be British now.
Watch: The Evolution of Meghan Markle's Style Through The Years
On that note, tell me more about your overall treatment ethos…
It has to start from within. We are all really busy, stressed, and multi-tasking. We all think putting things on our skin (topically), or laser, injectables, or this machine or that machine, is going to help. But,actually, what we need as physical organic beings, is simple massage, touch, mindfulness, calmness, etc. You have to create your skin. You look after it topically by shielding it and nourishing it, protect it from the environment, but if you want good skin you have to create it. You have to feel body, give it the intention and the ability to create the best skin for you. Gut health is so vital. If your gut is healthy, you have all the good, positive banter and then you are colonizing the gut with good bacteria which will allow your organs to function. Your gut looks after your main organs and the biggest one is your skin. So, if your gut is good–we produce all of our happy emotions and everything to do with our immune system all comes from our gut. When we have a gut feeling about something or we have butterflies, that's us producing chemicals in our brain which lives in our guts. You want to be friends with your gut. Then it will be friends with you and give you the best skin you could ever have. You have to start from the inside.
I know you are a big proponent of probiotics. Do you have a certain one you particularly love?
Yes, it's called Symprove. I got sick this year and I believe that it truly helped to save me. It's a water-based probiotic. Because the bacteria is put inside a water molecule, which is a really clever process, it means the body doesn't recognize anything but water and therefore it lets it go straight to the gut and doesn't try to break it down or anything like that. That means that 100 percent of the bacteria can start colonizing the gut and making a better flora and changing the environment of the gut so it works more efficiently and effectively. This particular probiotic helps your body to stimulate and produce its own good bacteria so that's a big one. I take it every day and I will always take it every day. Actually, although they don't stay this, if I have a cut or spot or something on my skin, I will put it on my skin topically. I reckon that good bacteria is going to help. I do see a difference, but really it's there for internal reasons. It's the best probiotic I have ever taken and I have been taking probiotics for 20 years because I am always aware of how important it is to keep a good body internally. It is a life changer and I see better skin, I have higher energy levels, my whole internal system works well, and I function really well. I am vegan as well. You have to be really careful about what you put inside your body and through your stomach. It is important to eat as clean as possible–I don't believe in eating animals but that is just me.
Do you have a book yet?
No, not yet. Some day! It's not new information that I'm sharing, but I do think it's new to girls in their twenties in particular. Historically, we have always been saying this–my grandmother was saying this! It is important because there is so much information out there and there are so many products it's so confusing and it's a minefield of madness unless you're helped through it. Sometimes i just think, the easier, the better. Our bodies are so clever at looking after us.
A lot of skincare experts and doctors these days are recommending what they call "preventative Botox" to women in their twenties and thirties. I know you are against this. Why?
Girls in their twenties are in their absolute best decade for skin. I know sometimes it can be problematic and hormonally we change and we get breakouts, but you're functioning really well in your twenties and it's too soon to have Botox and fillers, in my opinion. You should be prouder of the way that you look and not try to look like someone else. They already have that body and you need to focus on looking after your own body. Botox will not stop you from aging. Because you paralyze the muscle, you stop it from functioning the way it should function. Our body is made up of millions and trillions of individual cells and they each have receptors or managers that talk to each other. We are one big organism with lots of chattering cells so it is important you understand that you can't cut your head off from your body and by putting Botox into your face, it will definitely have an affect on the rest of your body. Not saying that it definitely will have a detrimental effect, but there is a possibility it could have a negative impact on other parts of your body. To put it this way, if you have put Botox into your face because you believe it's going to stop you from aging, here's what happens: when your brain tells your muscles to smile because you're happy or frown because you're upset, it sends a message through your nervous system and that message says 'hey, smile' and the response is 'oh man, I'm in a coma I can't smile,' so the messenger finds its next muscle and asks it to smile because that's how we function. So, you will get creases and smile lines in really weird areas. Also, the muscle that has been paralyzed because it has botulism impacted into its cells is tired. It holds tension and stress in it. What it doesn't hold is the ability to function correctly so you lose the circulation and you aren't feeding that muscle with oxygen and nutrients. The possibility of aging faster is a big possibility and you are losing volume. You are losing the youthfulness of that muscle and that's when you get that kind of shiny, no-movement look. Your skin won't move, but the possibility of getting fine lines and aged skin, in my opinion, is quite high. You don't need to be doing that. There are easier, more functional, fun ways to help your skin.
How lucky are we to still be on the planet and to age? That's why we tell girls in their twenties to hold off. I don't mind if a woman in her forties, or late forties, and has a very big frown line that's troubling her, then have it diffused slightly. But make sure to massage it and keep the muscle healthy. If your body was in a coma and suddenly you woke up from it, you aren't going to be able to sit up and run straight to the shop. Think about it in that way–how healthy are your muscles? Even if it's baby Botox and only a softening paralysis, you are still disrupting the natural function of how your body works. Our bodies are amazing, they really are.
You said you are a beauty product junkie. Any other favorite new beauty product finds?
The probiotic, 100 percent, is my favorite. I love Lumity supplements—my hair is amazing because of it and they have just launched an oil that I love. It's made by the same scientist who created the supplements. It's really a smart oil. I also love L'Occitane. I have known them for 15 years and I love the fact that they are a family-owned business. It has such a well-being sense, but also rich textures and decadence. That has a great effect on the skin. It smells amazing and when you apply it to the skin and massage your face it feels so good. I love Deciem's range called Niod, I think they are really smart. I think they tell it as it is. I am all about products that smell good and make you feel good, that is so important.
Kim Kardashian, Zoë Kravitz, and 10 More Famous Women Share Their Best Skincare Tips