Model Lili Sumner Bleaches Her Own Eyebrows Using Jolen
Model Lili Sumner shares her best beauty secrets.
---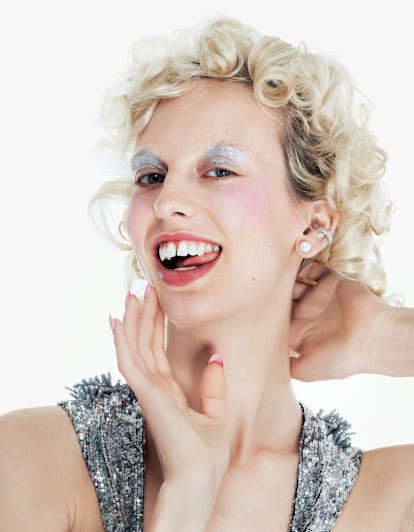 "Go Bold Or Go Home", W Magazine, March 2018. Photographed by Roe Ethridge. Styled by Zara Zachrisson. Hair by Jimmy Paul. Makeup by Dick Page.
Whether she's walking the runways of Miu Miu and Sonia Rykiel or gracing the inside pages of W, model Lili Sumner has quickly become one of the most recognizable faces in fashion. Known for her distinct bleached brows and gap-toothed grin, the New Zealander proves to have the serious beauty regiment to back it up. From her all natural skincare products to her DIY makeup removing hacks, here Sumner shares all of her top beauty secrets.
Medicine cabinet snapshot:
Bee Yummy Skinfood, Dr. Hauschka Facial Toner, Aesop deodorant, Girl Undiscovered Under the Waterfall Crystal Cleansing Water, Aura Cacia Love Potion.
Good skin starts with:
Good skin starts with diet and luck, but this magic natural face cream I use called Bee Yummy really does the trick. You can buy it at Live Live & Organic in the East Village.
SPF of choice:
I use Josie Maran Argan Daily Moisturizer SPF 47 and it's not tested on animals.
Makeup miracles:
I keep my eyebrows bleached and always have. This little product called Jolen, which is actually for bleaching moustaches, is a great gentle product that I can use regularly.
Never leave the house without:
Dr. Hauschka Lip Balm.
A good hair day starts with:
I shampoo and condition with Original & Mineral and brush my hair into place and leave it to air dry.
My hair colorist always says:
Rinse your hair with cold water, especially for bleached hair.
Nails must be:
I like them short and natural, with something fancy on my toes.
Beauty from the inside out:
Good skin supplements are spirulina—avoid the California or Japan sourced brands because of radiation levels, get the Hawaiian or New Zealand stuff. Glutathione is a magic vitamin. I always take vitamin C, at least 2000 mg's a day, and I go to the NutriDrip clinic in NYC if I know I'll be traveling a lot or I'm feeling run down. The Cleanse drip is my favorite.
Exercise obsession:
Honestly, I'm not a gym bunny in any sense. I walk everywhere and I dance for fun and do Kundalini yoga occasionally.
Drink of choice:
Cup of tea in the morning. Champagne in the evening.
Favorite scent:
I like mixing essential oils.
https://www.instagram.com/p/BcBF7RSl8b_/?hl=en&taken-by=lilisumner
Spa-cation at:
I like sitting in the Russian Bathhouse and having a chat with friends whilst observing some of the more unusual residents of my neighborhood.
TSA-friendly essentials:
I usually bring a face spray like the rose water one by Heritage Store so I can spritz throughout the flight, and a natural hand sanitizer to feel fresh. Dr. Bronner makes a good one.
In-tub must-read:
Currently I'm reading The Heart Is a Lonely Hunter by Carson McCullers. It's a beautiful in-tub read. And don't forget to add epsom salts to your bath for a good magnesium soak.
Best-kept beauty secret:
I use olive oil to take of tricky eye make up. Comes right off.
Beauty myth you'd like to debunk:
The idea that you need fancy new face creams that claim to anti-age your skin. Those products are generally tested on animals and are not essential. A good diet and a skincare regime with natural products is all you need.
Definite doppelgänger:
People tell me Shelley Duvall or Donna Jordan.
Selena Gomez, Kim Kardashian, And Adriana Lima Share Their Favorite Beauty Rules To Break
For singer Zendaya, a balance of drinking water and a consistent routine is key. "Just 'drinking more water' does not replace a skincare routine. It's good for you no doubt, but it will not make all your blemishes disappear overnight, especially for those with problem skin," she said.

@zendaya
Self-made beauty guru Kim Kardashian believes that, "the beauty myth that your brows should always match your hair" isn't something you have to follow. "I completely disagree. It can be more flattering if your brows are darker than your hair to warm up your face. Dark brows can be bold especially if your hair is platinum."

@kimkardashian
For Mexican actress Eiza Gonzalez, her beauty routine is all about staying natural, sharing that the use aggressive treatments and laser on your skin can be harsh and that "there's so many homemade remedies that will give equal result, but will just take a bit longer."

@eizagonzalez
Victoria's Secret Angel Romee Strijd doesn't believe that,"caffeine is bad for you skin, or that less is more when it comes to moisturizer."

@romeestrijd
For Big Little Lies actress Zoë Kravitz, her message is simple sharing that,"More makeup does not = more beautiful."

@zoeisabellakravitz
Brazilian beauty Adriana Lima believes that you don't, "need a facialist or dermatologist to have healthy and glowing skin".

@adrianalima
Model Sara Sampaio believes the beauty rule,"that you can't wear an eye and lip at the same time" should be broken. "You should always do whatever makes you happy—and there's a lot of cool make-up looks that include both!"

@sarasampaio
Less is more for model Bianca Balti. "People tend to say that the "more is better" but I disagree, we should all let our natural beauty shine, using makeup that enhances our natural glow and features is what is beautiful."

@biancabalti
Singer Selena Gomez shares a liberating beauty message, telling her fans," The beauty myth- an obsession with physical perfection that traps modern woman in an endless cycle of hopelessness, self consciousness, and self-hatred as she tries to fulfill society's impossible definition of flawless beauty. I chose to take care of myself because I want to, not to prove anything to anyone."

@marissa.marino