Trump's First State of the Union: All the Subtle Messages and Protests You Missed
From purple ribbons to African kente cloths, attendees's sartorial statements were subtle but omnipresent.
---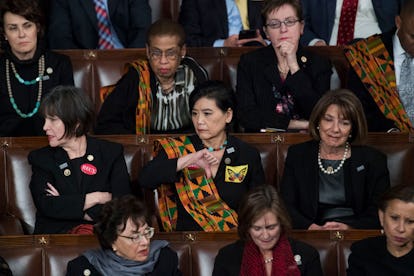 Tom Williams/Getty Images
Regardless of your stance on his administration, long before Donald Trump delivered his first State of the Union address on Tuesday night, the evening adopted a funereal tone—at the very least because of the Democratic Women's Working Group's plan to show support of the #MeToo movement and the anti-harassment and assault initiative, Time's Up by dressing in all-black, which even those like Megyn Kelly participated in when covering the event, too. Unfortunately, the statement was a bit lost in the sea of men obliged to wear black suits, though it definitely succeeded in making provocations—some women of the G.O.P., for example, responded by calling for others to show up in red, white, and blue.
As she no doubt knew before hand, regardless of what Melania Trump wore, she was already bound to face scrutiny: The night marked her first public appearance with her husband since the rumors got out about his past relations with the porn star Stormy Daniels, a speculative fire Melania added fuel to by breaking with tradition and showing up to the event separately from the president. She also caused a stir by arriving in an all-white Dior pantsuit—one that could have been a blatant rejection of the all-black movement, or a nod to the suffragists and more modern-day figures like Kesha and, of course, Hillary Clinton.
Ivanka Trump, on the other hand, seemed to pay homage to both parties: Her Oscar de la Renta dress was both black and white—and, of course, red and blue. Tiffany Trump, on the other hand, sported a white blouse and a black skirt. Unsurprisingly, then, all of the Trumps skipped out on the more explicit political statements a large portion of those present opted to make, speaking for the dozen-plus Democrats and five Supreme Court justices who decided to make their stance on Trump known by skipping out on the evening altogether. Take an up-close look at exactly what and how they were protesting, here.
Time's Up Pins
They may have gotten lost in the sea of black, but many Democrat women took the lead of A-listers at the Golden Globes in affixing Time's Up pins to their ensembles. House of Representatives Minority Leader Nancy Pelosi's was perhaps most prominently displayed; she spent the night looking remarkably somber in a black dress next to Democratic whip Steny Hoyer, who also wore a Time's Up pin.
Red "Recy" Pins
Ever since Oprah Winfrey called attention to her in her memorable speech at the Golden Globes, Recy Taylor, who died at the end of 2017, has become a symbol of the ongoing, and at times lethal, effects of racism in America. Six white men gang raped Taylor when she was on her way back from church in 1944, yet managed to escape any legal repercussions—a story that, decades later, as more and more keep up Taylor's early activism in bringing justice to victims sexual assault, seems to be resonating more than ever. Indeed, Taylor's niece and granddaughter were both present on Tuesday night thanks to New Jersey Representative Bonnie Watson Coleman and Alabama Representative Terri Sewell.
"I Will Not Be Silent": Hollywood's Biggest Names Pledge to Speak Their Minds:
Their presence was hardly the only nod to Taylor in the crowd: Coleman also ordered 200 red pins emblazoned with the word "RECY," which were unmissable on the chests of many Black Caucus members, as well as what seemed like all members of the House Democrats.
African Kente Cloths
Members of the Congressional Black Caucus wore brightly colored kente cloths in traditional African patterns "to honor the countries POTUS proclaimed "s-holes" last week," as North Carolina Representative Alma Adams put it on Twitter, referencing Trump's comments about immigration in regards to those hoping to move to the states from countries like Haiti (whose people Trump has previously remarked "all have AIDS").
Men like South Caroline Representative James E. Clyburn—who looked unabashedly bored and upset during the entire proceedings, and was also decked out in Time's Up and Recy Taylor pins—took part by wearing a kente tie, while many women wore sashes, including the California Representative Judy Chu, the first Chinese American woman elected to the U.S. Congress—who notably gave a thumbs down during Trump's address. (The Caucus members also notably did not clap or make eye contact with cameras when they panned to them after Trump announced how proud he was that African-American employment rates have risen.)
Butterflies
It was the Congressional Hispanic Caucus who headed up the move to wear sizable yellow migrating butterfly stickers in a show of support for immigrants, refugees, and Dreamers, but they were joined by others like Nancy Pelosi, and Judy Chu, who's repeatedly rejected the use of the phrase "chain migration." Chu also helped organize the attendance the largest group of Dreamers to ever attend the State of the Union so that, as she put it, "Donald Trump can see their faces. They are our future, and they should not be used as leverage to end our family immigration system." (More than 20 House members brought along DACA recipients as their plus-ones.)
Purple Ribbons
Though Trump declared the opioid crisis a "public health emergency" last year—a year after which overdoses became the leading cause of death for Americans under 50, and which now, in America alone, has led to the rate of around 90 deaths per day—his administration has done little to concretely address it ever since. That hasn't been lost members of Congress: On Tuesday night, at least a dozen of them, including Bernie Sanders and New York Senator Chuck Schumer, wore purple ribbons to take advantage of what New Hampshire Senator Jeanne Shaheen, whose office distributed the ribbons, called an "important opportunity to send a message that more needs to be done to address this crisis."
Trump did indeed bring up the opioid crisis on Tuesday night, but not in any sort of medical terms, instead keeping the focus on law enforcement. "We must get much tougher on drug dealers and pushers if we are going to succeed in stopping this scourge," he said, failing to make any real promises—and no doubt encouraging some Congress members to hang on to their purple ribbons for at least just a bit longer.
Related: Outrage, Boredom, and Turn It Off: How Celebs Reacted to Donald Trump's State of the Union on Twitter
How Celebrities Protest in the Streets: A Visual History of George Clooney Getting Arrested, Kanye Occupying Wall Street, and More