Celebrity Trainer Jill Payne on Why a Successful Workout Routine Is All About Your Mental Health
Your fitness has everything to do with your state of mind.
---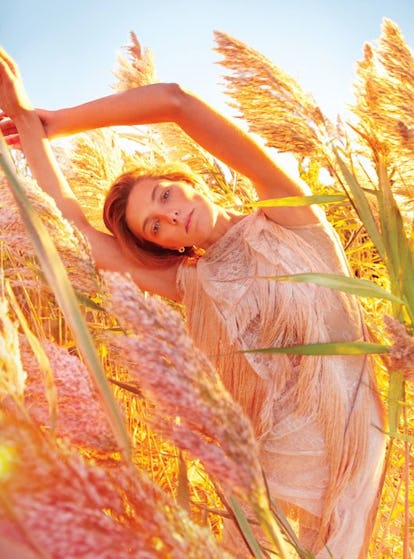 Photographer: Ryan McGinley Stylist: Edward Enninful
When it comes to a standard workout routine, finding the motivation and a realistic schedule can seem like the ultimate balancing act. However, for celebrity trainer Jill Payne, the act of working out goes way beyond the physical. "We hold our psychology in our physiology," Payne explains. In other words, maintaining your physical and mental energy is the ultimate form of self-care, which will inevitably transfer into all aspects of your life. From the simple acts of smiling to breathing to full body workouts, here, Payne explains how exercising is all about energy, and not in the obvious ways.
How did you get your start in fitness? I always played sports. I actually played on the National Rugby Team when I was in Canada, so I had always been training, but it wasn't something I thought was going to be my career. I had done a degree in Human Kinetics and a Masters in Exercise Science, but I was still looking more towards health promotion and teaching. And then when I was in Costa Rica, I had this little rancho on the property where I was living and there were no fitness classes, just yoga and surfing. So I decided to just have one class in the afternoon for my friends and it started to get big; I started to add more classes and started doing private lessons, and I realized that is exactly what I was meant to be doing.
What was the major element you noticed missing in people when working out? It was kind of cool in Costa Rica because I really didn't have a lot of influences, I had to be super creative. I had limited equipment, it's outside, so I was just coming up with stuff. And what I was noticing is that we had a good time and people left happier than when they arrived. I was driven by this. When I was personal training, how many times do you give someone a meal plan and an exercise program and a couple weeks later they haven't gotten results—but then there are some people you give a program too and they follow it completely. So what is the difference between those two people? And what I really started to realize was that it was energy, like physical energy. The way that I see it, everything is on a scale of zero to 10 and I believe that we have the choice to live either in beautiful state which is a 10 or a suffering state which is zero. Being a 10 is being a dime, and the idea that you can be a 10 out of 10 everyday: Creative, inspired, joyful, happy, energized, engaged is a huge one, I really focus on wanting everyone to be fully engaged, every single cell in their body, and that's what makes a good workout, but it also transfers to every area of your life.
Suffering state is anxiety, stress, fear, overwhelmed, sadness, depression. We've got the two different extremes. And what I was noticing is that those beautiful states require physical energy. Very rarely do you see someone who is happy, inspired, and creative, but exhausted all the time. They have the physical capacity to do what they need to do, they have energy. I believe when you let your physical energy come down, that's where you are more likely to feel anxious or overwhelmed because you don't have the energy to handle what's coming at you. The whole idea is that it's difficult to manage my emotions, but the way I see it is that my physical energy determines my mood. My whole thing with the training has shifted because most importantly, I want your physical energy to be up. So once you are at a 8, 9, 10 on a regular basis, you actually feel like going to the gym and choosing different foods. When they are at a 9 or 10, they don't really even need me, they are able to manage their own physical wellness.
Can you explain the philosophy and development behind your program Spiritual Athlete? I call it energy management, and there are three things that create and cultivate energy. One is your body, two is your focus, and three is your dialogue with yourself. With the body, it's not about the gym everyday. I have five things you can do with the body every day and it's your posture, are you smiling, are you breathing into your belly, are you using your voice in a strong way. And I do talk about movement, but the way I see it, the more of your body that you physically use, the more energy we feel. We hold our psychology in our physiology, so however we feel, we are then shaping our body around it and we are wondering why we are stuck or our body is shaped like that and we are wondering why we don't feel so good.
Posture is all about power poses and lifting your sternum, we know that makes us feel different. I always say your life is different even if you can lift your sternum just one inch versus someone who is compressed. With smiling, you're training the muscles to make that shape and it sends a signal to your brain and changes your biochemistry. With breathing, when we can get into the diaphragm, we can get into that rest and recover nervous system where we are calm versus when we are in our chest. Being able to relax and breathe into the belly and having the diaphragm fully activated all the time is going to change the way you feel. With your voice, it reflects the channel that you are on From a zero it's being fearful, from a five it's being hopeful, and from a 10 it's being certain. When we are certain, we are clear and articulate. The movement piece—in conscience leadership they call a five "the line"—so you might not be able to be a 10 all the time, but you definitely be above the line. For most people this is so new, so I say let's get to at least a five and the rest will take care of itself.
What are your go-to workouts exercises and why? What are five exercises we can try at home? It depends how the person comes in, if they are low energy, we need to get their energy up and using a lot of their surface space to increase their energy. You've got to have any cell engaged in what you are doing, so it's going to be high intensity because you are using every part of your body. If I really want to get into the focus and dialogue, we will do something heavy or isometric holds, that's when the magic happens. I love good cardio that gets the heart rate going, it gets your energy up for sure.
I believe that anything where you are reaching your arms out, you are opening your diaphragm, you are helping your breathing. Squat jumps would be great, wall sits or plank holds are great for that mental mind. I also do some Kundalini work where you hold your arms straight up to the side for an entire song. I love reverse burpees, mountain climbers, ice skaters and donkey kicks. You just want to have your entire body engaged.
What are you best fitness maintenance tips to help keep workouts consistent? The big thing is that you want to manage your energy first, so there should never be anything that is forced, it should always be something you want to do. You need to look at your body, focus, dialogue. It's all about energy management first and as soon as you feel the impulse, you go for it.
There are five little things I do to help manage my energy. First, meditate everyday; it doesn't have to be something formal, it's just intentional time to sit, breathe, relax and connect with yourself. Number, especially for us east coasters in these winter months, is to walk outside for 20 minutes everyday. Natural light is so important, so whatever the weather is, make the effort to get outside and swing your arms. There's so much research on social connection and how that impacts our mental health, so number three is to do something nice for someone else. Number four is to do dance to one song everyday. And the last one is gratitude before bed, even 30 seconds of gratitude affects our nervous system and thinking about or writing down some things you are grateful for can switch the nervous system over and give you a nice sleep. If you did that everyday, I would be surprised if you didn't feel like exercising.
How Kendall Jenner, Adriana Lima and More Models Are Staying Fit in 2018