Miley Cyrus, Emma Stone, Jennifer Lawrence and Everything Else You Need to Watch, Binge and Listen to This September
Miley Cyrus, Jennifer Lawrence, Emma Stone and More All Return!
---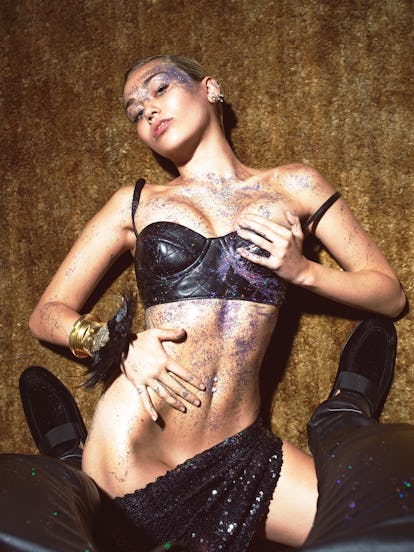 In this special monthly edition of In & Out, we're looking a full month ahead and sorting through June's cultural calendar for you. Here's our picks for what you'll need to consume to keep up with polite dinner party conversation, what you'll be secretly binging late at night, and what's best to just avoid.
For daily In & Out content subscribe to the newsletter here.
What You Need To Know
Movies
After what seemed like a historically boring August at the cinemas, the box office finally heats up again and there's no film quite as anticipated as Black Swan director Darren Aronofsky's Mother! (Sept. 15th) We've seen the Jennifer Lawrence-starring trailer, but we still don't know much about it. Aronofsky wants it that way. If you need more thrills and chills, then Stephen King adaptation It (Sept. 8th) should do the trick. Need something trippier? Kate and Laura Mulleavy, the designer sisters behind Rodarte, turn directors with Woodshock (Sept. 22nd). It feature Kirsten Dunst getting a little too high on cannabinoids. Prefer your fashion designers in front of the lens? Manolo: The Boy Who Made Shoes for Lizards, a documentary about everyone's favorite shoe designer (as in Blahnik) hits screens on September 15th with appearances from Naomi Campbell, Anna Wintour and Rihanna.
Television
Elisabeth Moss vehicle Top of the Lake returns for a second season after four years, this time subtitled China Girl and with Nicole Kidman and Gwendoline Christie in tow (9pm on Sept. 10th, Sundance). The Wire creator David Simon returns home to HBO once again for The Deuce (9pm on Sept. 10th), this time to take on, well, porn and prostitution in 1970s New York. It stars Maggie Gyllenhaal as a savvy sex worker and James Franco as twins. Of course, all your favorites are returning as well, but allow us to single out the return of under-the-radar Better Things (10pm on Sept. 14th, FX), Pamala Adlon's all-to-real dark comic take on single motherhood that netted her a surprise (but deserved) Emmy nomination.
Music
LCD Soundsystem started off the month with a bang with the release of their fourth album (and first after a weird "we're retired …just kidding!" stunt) American Dreams. Critics are already loving it. Keep those glistening electro-tinged rock vibes going with Cut Copy's Haiku From Zero on September 22nd. On Sept. 8th, power punk hero Ted Leo returns after a seven-year hiatus with his latest The Hanged Man. Synth goth queen Zola Jesus rises with Okovi on the same day. Meanwhile, on Sept. 22nd, Netflix drops Lady Gaga's version of Truth or Dare, the documentary Five Foot Two. It promises to show us the real woman who created that Fame Monster.
What You'll Actually Enjoy
Movies
Fresh off her Oscar win, Emma Stone returns on September 22nd with her highly anticipated turn as tennis champion Billie Jean King in Battle of the Sexes opposite Steve Carrell, and the role may very well find her nominated again. Reese Witherspoon is riding high after the TV success of Big Little Lies and plans for another series with Jennifer Aniston, but on September 8th she'll remind you she's still very much a movie star with Home Again, a popcorn muncher about a single mother who lets three young filmmakers live with her. The early word on Tom Cruise-starring American Made is that it's very much for Tom Cruise fans. Meaning, it's a role as a DEA information tailored for him that should make you forget all about The Mummy. Meanwhile, the crowd pleasing spy comedy franchise Kingsman gets a second film in Kingsman: The Golden Circle, and this time Julianne Moore, Halle Berry, Channing Tatum, and Jeff Bridges join stars Colin Firth and Taron Egerton. Oh, Elton John makes an appearance too, which just seems like the cherry on top of what looks to be a delightful film.
Television
American Horror Story: Cult (10pm on Sept. 5th, FX) seems bonkers, and the early reviews are fittingly all over the place. Though, everyone should know what they're getting into with the Ryan Murphy camp-fest: lots of powerhouse Sarah Paulson scenes, and lots of confusing plot points. American Vandal (Sept. 15th), Netflix's original movie spoof of the real crime drama, is being called one of the weirdest things the streaming service has put out-and that's considered a compliment. A much needed return of Broad City happens on September 13th (10:30pm on Comedy Central). Of course, this month's biggest TV news may very well be the revival of Will & Grace (9pm on Sept. 28th, NBC). It got us through the worst of the Bush years, and dammit if it won't try its best again.
Music
September 29th sees a three way Billboard battle between three people who can either be called former Disney Stars, country-pop hybrid singers, or both as Miley Cyrus, Demi Lovato, and Shania Twain all release new albums. The Killers continue their journey into their mix of U2 and Spingsteen-dom with Wonderful Wonderful on September 22nd. Fergie returns the same day with Double Duchess. Maybe the most surprising return of the month is MTV's seminal Unplugged. Polite and handsome popstar Shawn Mendes kicks things off on September 8th, and it returns a week later with singer-songwrite-Lena Dunham boyfriend Jack Antonoff (AKA Bleachers) a week later with special guests Lorde and Carly Rae Jepsen.
What You Can Ignore
Movies
Every once in a while Hollywood plucks a little teen idol out of the fray and gives him a chance to headline a modestly budgeted action flick just to see if he's got leading man potential. This month Teen Wolf's Dylan O'Brien gets that chance on September 15th with American Assassin. We wish him the best, but these movies are hardly ever any good because quality is besides the point. September 22nd brings a curious horror film called Friend Request. Yes, it's social media themed. Yes, the tagline is "Evil is Trending." No, you probably don't need to know much more. Just go see last month's better Ingrid Goes West instead.
TV
Family Guy creator Seth MacFarlane goes live action with The Orville (8pm on September 10th, Fox), which, despite its name, is not about a popcorn mogul but rather a Star Trek spoof. It may very well please his existing fan base, but if you're not among it already it probably won't convert you. Big Bang Theory prequel Young Sheldon (8:30pm on Sept. 25th, CBS) is already a Twitter punchline, so hopes aren't very high.
Music
Macklemore is probably used to this, so his new album Gemini (Sept. 22nd) is going to take the bullet this month.
Related: The 10 Fall Books to Read Right Now
Miley Cyrus Takes W's Screen Test: