Spider-Man, Lana Del Rey, and Everything Else You Need to Watch, Binge and Listen to This July
From the return of Game of Thrones to Charlize Theron in Atomic Blonde, here's your In & Out pop culture guide to the music, movies and TV shows of July.
---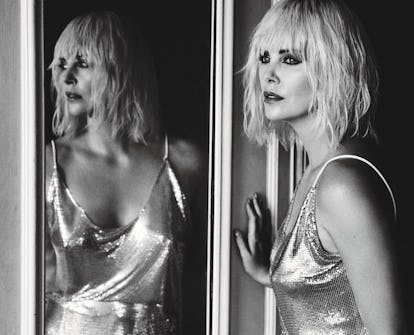 Photographs by Alasdair McLellan, Styled by Edward Enninful
In this special monthly edition of In & Out, we're looking a full month ahead and sorting through June's cultural calendar for you. Here's our picks for what you'll need to consume to keep up with polite dinner party conversation, what you'll be secretly binging late at night, and what's best to just avoid.
For daily In & Out content subscribe to the newsletter here.
What You Need To Know
Movies
It's blockbuster season, and we'll get to those in a minute, but if you're looking for somethings smaller and (potentially) smarter, then there are some options. Landline, star Jenny Slate and director Gillian Robespierre's follow-up to 2014's gem Obvious Child, is out July 21st. Well reviewed Lady Macbeth (July 14th) has nothing to do directly with Shakespeare, and everything to do with a young, upper-class woman in rural 1800s England who gets beyond fed up of being told what to do by her older husband and his family. Hint: it's either a feminist empowerment tale or a very high-class serial killer movie. July 7th's A Ghost Story is an odd little film that finds Casey Affleck literally playing a ghost in a bed sheet. Then, of course, there's Valerian and the City of a Thousand Planets on July 21st. The Dane Dehaan and Cara Delevingne-starring movie is Europe's most expensive ever, but it remains to be seen if it will achieve blockbuster status here or play as a curious stylish sci-fi movie for those already into director Luc Besson's vibes. Though, the big headline of the mont may be Christopher Nolan's ambitious World War II film Dunkirk, also out July 21st.
Television
Some little show called Game of Thrones comes back for its second-to-last season on July 16th on HBO. The channel is also already given us a second season of Issa Rae's delightful Insecure on July 23rd, and you can tune in again for *Room 104_, a quirky yet frightening horror anthology series from indie filmmakers The Duplass brothers on July 28th. Netflix isn't taking the summer off either. Their Friends From College (July 14th) might be their buzziest new show of the month. It stars Keegan-Michael Key and Colbie Smulders as a couple who moves back to New York City and reunited with their, well, you can tell from the title. Their Ozark (July 21st) finds Laura Linney and Jason Bateman as drug money launderers in Missouri. Sure. If that wasn't enough the service also debuts two new movies: anorexia dramedy To The Bone on July 13th and Jessica Williams-starring rom-com *The Incredible Jessica James_ on July 28th.
Music
This month's most critically anticipated releases might take you back to Canadian college radio playlists circa 2005. Arcade Fire's Everything Now hits July 28th and Broken Social Scene (a supergroup that is to Canadian indie rock what The Avengers are to superheroes) finally returns after a sabbatical with a new album titled Hug of Thunder on July 7th. For something completely new (but still a bit college radio) check out Need to Feel Your Love, the debut album of Philadelphia rock band Sheer Mag. The female-fronted band has shown their master of good ol' garage rock with a series of EPs and may be on the verge of wider notice.
What You'll Actually Enjoy
Movies
Spider-Man: Homecoming, out July 7th, has already screened for critics and they're absolutely bonkers over it. Though the big news is that the film finally brings Spidey into the Avengers-dominated Marvel Cinematic Universe, the film takes advantage of the fact that he's no longer the only hero in town and the fate of the world isn't squarely on his shoulder (yet, anyway) to split the middle between classic superhero movie and a smaller-scale, classic teen coming-of-age tale. Critics have also already seen War for the Planet of the Apes, set for release on July 14th, and are similarly smitten. Who knew? If you're looking for a blockbuster with female empowerment, well there's the Charlize Theron super-spy film Atomic Blonde on July 28th. It's a highly stylized (and super sexy) action-fest that looks tempting and continues the bad-ass women theme of the summer set by Wonder Woman.
Television
We all know how bad summer television can be. Especially when it comes to debuting serious. Though, every once in awhile something brand new comes along in the sweaty months that surprises as a hit or at least a decent guilty pleasure. Will it be TNT's Will (July 10th), a series that reimagines William Shakespeare as a punk rocker amidst nipple pasty-wearing go go dancers? Could it be FX's Snowfall (July 5th), an effort from film director John Singleton about the rise of the crack epidemic in 1980s Los Angeles? What about Freeform's The Bold Type (July 11th), which is based on the life of New York's second (or is third? fourth?) most powerful magazine editrix Joanna Coles? There's also truTV's I'm Sorry (July 12th), which was created by and stars Andrea Savage and includes a lot of cameos from buzzy comedy types. Maybe The CW's Hooten & The Lady (July 13th) or AMC's Loaded (July 17th), both imported from England. NBC's Midnight, Texas (July 24th), which is based on the latest series of novels from the writer who originated the characters in True Blood, could be a contender. We just don't know. It seems to be a "let's throw things at the wall and see what sticks" month for new TV series, and hopefully there's something that sticks for you. If not, well, it's as good a time as any to binge all the shows you've missed from earlier in the year.
Music
What a month for rocker chicks with enviably straight, enviably long brunette hair! Lana Del Rey, the high witch of our collective summertime sadness, threatens to release an album that for the first time finds her gasp kind of happy! The singles we've heard from Lust For Life (July 21st) find the singer lyrically upbeat, and there appears to be no more emotionally detached daddies leaving her crying during a gentle summer storm while she's licking a Pepsi Cola-flavored popsicle and driving a vintage Corvette down the Pacific Coast Highway in a red dress or whatever it is she used to sing about. Likewise, Haim has Something To Tell You on July 7th. Though, they probably told their multitudes of celebrity friends first. As always, you can count on them to give you some of the most addictive, California sisters-in-harmony anthems since that one Wilson Phillips song.
What You Can Ignore
Movie
The Emoji Movie is released to theaters across America on July 28th and no one still knows why.
Television
Oh, you might think CBS's Candy Crush game show (an actual thing actually premiering on July 9th) may be the stupidest television program of the month, but then Discovery Channel's Shark Week centerpiece is called Phelps vs. Shark: Great Gold vs. Great White. Yes, Michael Phelps races a great white shark. Spoiler alert: the shark will probably win.
Music
In the least anticipated "going solo" move since Nicole Scherzinger, someone named "Kirsten" form the unbelievably popular a cappella band Pentatonix releases a debut EP called L O V E on July 14th in a bid for more traditional pop success. Foster The People-that band that released that song everyone loved, what was it? Six years ago now? Wow. Time moves so fast!-releases a new album a week latter that probably will not make up for lost time.
Related: The 9 Books By Women Authors to Read This Summer
Charlize Theron Still Feels Bad About the Time She Punched Teri Hatcher In the Face: