The 23 Best Red Carpet Fashion Moments of 2022
From Bella Hadid's best vintage to Taylor Russell in Schiaparelli couture.
---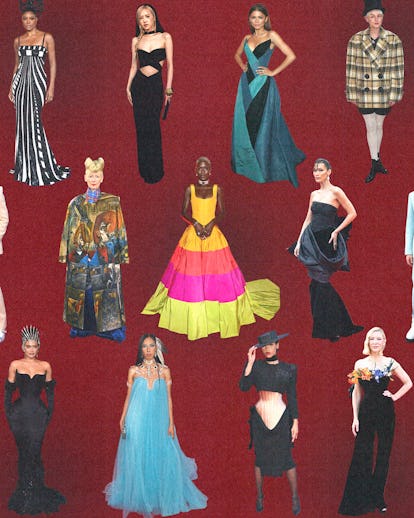 Collage by Ashley Peña
What will we remember when looking back on the red carpets of 2022? The list will, no doubt, include one of the following moments: Blake Lively's gown, which turned the Met Gala stairs into Grand Central Station's celestial ceiling; Jodie Turner-Smith's complete takeover of the Venice Film Festival; or Bella Hadid's vintage parade at Cannes. But in between those standouts, there were still loads of hidden gems. Giveon's tweed Chanel suit at the Grammys had us rethinking the brand's lack of menswear, while Emma Corrin's Met Gala ensemble reminded us that, sometimes, fashion needs to be a little bit silly. This was the year of Jean Paul Gaultier and Schiaparelli couture, Kylie Jenner flexing her access at every opportunity, and Zendaya keeping us on our toes. Red carpet staples like Tilda Swinton and Lady Gaga continued to do what they do best, while newcomers like Quannah Chasinghorse and Taylor Russell dashed the status quo. Looking back at the movie premieres, award shows, and galas over the past year, it's clear 2022 was a time for referencing the past, both with new designs and vintage finds, while also breaking barriers—especially when it came to menswear and diverse representation. Here are the 20 red carpet fashion moments from 2022 that we'll still be thinking about well into 2023.
This article was originally published on