Ask the Astro Poets: What Happens When You Date Someone Who Shares Your Sign?
Twitter's favorite astrologers are here to help you out once again in their monthly advice column.
---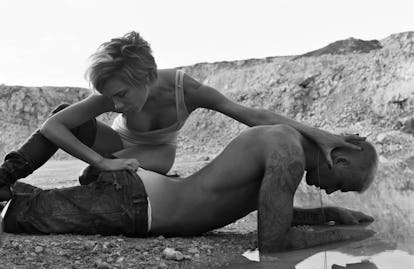 Steven Klein
Ask the Astro Poets is the monthly advice column by W's resident astrologers, Alex Dimitrov (Sagittarius) and Dorothea Lasky (Aries). At the halfway point of every month, they take a breather from writing poetry and horoscopes, and take your questions about love, career, even the big existential questions in life. From matchmaking and compatibility, to friendship, professional, and dating advice, the poets of the stars are here to guide you through any challenge:
Dear Astro Poets,
I'm a Libra who'd nearly given up on finding love. I was painting random men I met on Tinder for kicks, except one who was an Aries and who refused to be painted. I fell hard; we got an apartment together three weeks later. It's been six months and our relationship is excellent. He even lets me paint him now! Unfortunately, though, in true Aries fashion, wherever he goes, he does not mind starting a few fires. When he's not yelling at people to stop bicycling on the sidewalk, he's punching guys who were flirting with me. I'm tired of sewing up his leather jackets and apologizing to strangers. Is there any way to gently pour water on a fire sign?
A Peace-Seeking Libra
Dear Peace-Seeking Libra,
I'm surprised he didn't move in with you after three hours instead of three weeks. When an Aries wants something, they will be relentless and impulsive. When it comes to love, it's exciting, but it can also lead to high drama. A Libra isn't exactly the sign who wants someone punching people for them. (Though in theory, I bet a Leo would like that.) You're way too elegant, calculated, and, well, as you put it, peace-seeking. No matter how upset a Libra is, they will scheme more than they will act out. Fire signs are the wild things of the zodiac—like that scene in Kenneth Anger's Scorpio Rising where all the bikers are riding together, dressed in black leather, as if they're in some cult. Sometimes being in a relationship with a fire sign really does feel like you've joined a cult!
Celebrity Aquarius Season With Oprah and Laura Dern
Alicia Keys, born January 25th. Photo by Mario Sorrenti for W Magazine.

Photographer: Mario Sorrenti Stylist: Alex White
Laura Dern, born February 10th. Photo by Juergen Teller for W Magazine.

Photograph by Juergen Teller; Creative Partner to Juergen Teller: Dovile Drizyte; Styled by Sara Moonves. Hair by Malcolm Edwards at LGA Management; Makeup by Sam Bryant at Bryant Artists; Manicure by Michelle Saunders.
Jennifer Aniston, born February 11th. Photo by Michael Thompson for W Magazine.
Evan Peters, born January 20th. Photo by Alasdair McClellan for W Magazine.

Alasdair McLellan
Oprah Winfrey, born January 29th. Photo by Juergen Teller for W Magazine.

Juergen Teller
Paris Hilton, born February 17th. Photo by Mayan Toledano For W Magazine.
Yara Shahidi, born February 10th. Photo by Alex Hodor Lee for W Magazine.
Ellen Degeneres, born January 26th, and Portia De Rossi, born January 31st. Photo by Michael Thompson for W Magazine.

Thompson Michael
Tom Hiddleston, born February 9th. Photo by Mona Kuhn for W Magazine.

MONA KUHN
Eiza Gonzalez, born January 30th. Photo by Bruno Staub for W Magazine.

BRUNO STAUB
Kerry Washington, born January 31st. Photo by Juergen Teller for W Magazine.

Teller Juergen
Ashton Kutcher, born February 7th. Photo by Pari Dukovic for W Magazine.
Emma Roberts, born February 10th. Photo by Inez and Vinoodh for W Magazine.

Inez Van Lamsweerde and Vinoodh Matadin
Elizabeth Olsen, born February 16th. Photo by Alex Prager for W magazine.
Justin Timberlake, born January 31st. Photo by Platon Antoniou for W Magazine.

Platon Antoniou
Joseph Gordon-Levitt, born February 17th. Photo by Juergen Teller for W Magazine.
Benicio del Toro, born February 19th. Photo by Peter Lindbergh for W Magazine.
Chloë Grace Moretz, born February 10th. Photo by Rineke Dijkstra for W Magazine.
Michael B. Jordan, born February 9th. Photo by Tim Walker for W Magazine.
Christina Ricci, born February 12th. Photo by Mert and Marcus for W Magazine.
The passion with an Aries is not going to let up. That's the good news—and maybe the bad news for air signs. When you're in a relationship with an Aries, the ups and downs are daily. Hourly? Every 30 seconds? I'm not going to name names, but once a triple Aries man I was dating threw a plate across the room and broke it because he was feeling a certain way, and this was maybe only the fourth time we had hung out. (We only lasted two weeks.) Now, I'm a fire sign, so I get it. But as a Sagittarius, while I can withstand the drama, at some point, I also find it boring and just tune out or disappear. And so in that case, I did.
What should you do? Well, I get being turned on by that person who won't let you paint them—or who won't come over easily, text back right away, etc. Though honestly—and you probably know this by now—Aries aren't that hard to get; they just pretend to be hard to get for about 1.5 seconds. Now you do finally have him, but there are too many explosions. But the explosions have to be worthwhile somehow. You can't always be doing emotional labor for this Aries. And that's something an Aries enjoys testing the boundaries of. So sit him down and be really direct about the fact that you can't babysit him every time he has a feeling. Or, if it happens again, show him by example that you just won't tolerate it by ending the night or something along those lines.
Still, I have to be honest with you: the fire doesn't really go away. And it can often feel childlike and irrational. You just have to decide for yourself if it's really worth it. Maybe it is! The grand-sweeping, all-consuming passion with an Aries can be a beautiful thing. I guess your sewing skills will really be tested. Personally, I can't sew! And I'm not entirely convinced it's worth it to learn. But of course, like poetry, love has nothing to do with logic.
Your free Sagittarius,
Alex
Celebrity Pisces: It's Time for Rihanna to Shine Brighter Than Ever
Rihanna, born February 20. Photographed by Craig McDean for W magazine.

Craig McDean
Drew Barrymore, born February 22. Photographed by Mert and Marcus for W magazine.

Mert Alas and Marcus Piggott
Alisha Boe, born March 6. Photographed by Tiffany Dawn Nicholson for W magazine, May 2018.
Oscar Isaac, born March 9. Photographed by Francesco Carrozzini for W magazine.

Francesco Carrozzini
Cindy Crawford, born February 20. Photographed by Juergen Teller for W magazine.

Photographed by Juergen Teller
Eva Mendes, born March 5. Photographed by Mert and Marcus for W magazine.

Mert Alas and Marcus Piggott
Millie Bobby Brown, born February 19. Photographed by Alasdair McLellan for W magazine.

Alasdair McLellan
Olivia Wilde, born March 10. Photographed by Juergen Teller for W magazine.

Photograph by Juergen Teller for W Magazine, February 2014.
Rachel Weisz, born March 7. Photographed by Juergen Teller for W magazine.

Teller Juergen
Dakota Fanning, born February 23. Photographed by Inez and Vinoodh for W magazine.

Inez van Lamsweerde and Vinoodh Matadin
Jessica Biel, born March 3. Photographed by Mikael Jansson for W magazine.

Jansson Mikael
Ellen page, born February 21. Photographed by Caitlin Cronenberg for W magazine, 2017.

Caitlin Cronenberg
Daniel Craig, born March 2. Photographed by Jeremy Murch for W magazine.

Murch Jeremy
Emily Blunt, born February 23. Photographed by Nigel Shafran for W magazine.

Shafran Nigel
Lily Collins, born March 18. Photographed by Marton Perlaki for W magazine.

Marton Perlaki
Miles Teller, born February 20. Photographed by Richard Burbridge for W magazine.

BURBRIDGE RICHARD
Dear Astro Poets,
I just met the man of my dreams. I'm a Taurus sun with a Leo rising and Cancer moon. He's a Taurus sun as well, with a Gemini rising and a Pisces moon. I've never felt so unbelievably elated with a person before, and we've only gone out twice. I can tell he's also very into it, but I keep having to remind myself that he's just gone through a divorce so this may not work out. But then I think, "He's a Taurus, too, and if anyone can jump into another relationship after leaving one behind…"
I'm trying to have no expectations, but the feeling is enough that I'm willing to cut my losses if it doesn't work out. But my intuition tells me it would be amazing if it did work out, so I don't want to seem like I'm not interested when I'm just being cautious. What the hell do I do with this bull?
Yours,
Terribull in Love
Dear Actually Terrificbull in Love,
I love this Taurus-centric, Taurus-focused question! Because we aren't yet in it, but in a few weeks we will be approaching Taurus season—the season of romance, affection, slow-cooked dinners, even slower lovemaking, and sweet, sweet love songs. I seriously can't wait. I love Taurus everything.
All signs have the ability to find romance with people of the same sign, but not all of these scenarios have longevity. For example, Aries on Aries is supposed to be pretty okay, but every time I meet another Aries, I just roll my eyes. The one time I was into an Aries, the feelings lasted about 10 seconds, and ended in a sort of profound repulsion that I've never felt since. There are other same sign combinations that are particularly exciting. For example, whenever two water signs get together, it's always a lot of WHOA, okay, okay. I've had lots of Cancer friends, and it's always so cute when the two of them get together—it's like two puppies running towards each other in a very light drizzle. Likewise, Scorpio on Scorpio happens a lot and is pure magnetism for a while, but then they eventually bore each other to death. And Pisces on Pisces really is like four fish swimming and having sex at the same time—a total weepy house party.
In Memoriam of 2018's Most Devastating Celebrity Breakups, So Far
After eleven years together as a couple, Natalie Dormer and Anthony Byrne called off their engagement recently due to disputes from working together on their film, In Darkness.

David M. Benett/Getty Images
Robert DeNiro and his wife Grace Hightower recently announced their split after 20 years of marriage.

Taylor Hill/Getty Images
Paris Hilton and the actor-artist Chris Zylka reportedly called off their engagement in November, bringing their two-year relationship to an end. After meeting at Art Basel Miami and keeping in touch via text, the pair went on their first date—the actual first time around, since, as Zylka told W earlier this year, "I got so nervous that I cancelled and said I was sick." According to him, at least as of this past March, they hadn't spent more than four hours apart from each other since that first date, making it only natural that Zylka proposed to Hilton with a $2 million ring earlier this year. Having called things off, things are reportedly back to usual for the pair: "Paris will be focusing on her brand, like deejaying and fragrances, while Chris will get back into acting and art, like his gallery pop-ups with Banksy during Art Basel."

Michael Beckert
Antoni Porowski had been dating Joey Krietemeyer for about seven years before he became an overnight celebrity thanks to Netflix's Queer Eye, and the show's designated food expert even said that the pair were "basically married." Though, in recent months Krietemeyer didn't appear with Poroski in public nor on his popular social media channels. Us Weekly now reports that the two broke up two months ago, but that they remain friends.

Dia Dipasupil
The relationship between Diddy and "Me & U" singer Cassie has always been steeped in a mystery. They first started dating back in 2006, but had broken up and gotten back together before. As of now, the pair have once again split.

John Shearer
Pete Davidson and Ariana Grande's whirlwind relationship and engagement didn't just set a new precedent for news-cycle domination; it also arguably broke records in terms of plain old productivity. In just five months, the pair got seemingly countless tattoos together; went through bottle after bottle of bleach and hair dye; made the trek to Staten Island; moved into a $16 million apartment; adopted a pet pig; made merch for each other; and prompted a new strategy at SNL. (On a much more serious note, they also dealt with some very real tragedy: the untimely death of Grande's previous partner Mac Miller.) Davidson and Grande may have now called it quits romantically, but their bond apparently remains; according to TMZ, which broke the news, "the two still have love for each other."

Nicholas Hunt/Getty Images
Brandon and Leah Jenner announced via Instagram that they would be separating as of September 2018, after six years of marriage and 14 years together in total.

Imeh Akpanudosen
Shortly after Noah Cyrus and the rapper Lil Xan made their red-carpet couple debut, at the 2018 MTV VMAs, cheating rumors reportedly put an end to the relationship in September 2018.

Axelle/Bauer-Griffin/Getty Images
The short summer fling between Camila Mendes and her boyfriend Victor Houston reportedly ended with some deleted Instagrams in August 2018, about a month and a half after the two were spotted celebrating the Riverdale star's birthday in Montauk.

Photo by @victorhouston.
The endless iced coffee dates could not keep Ben Affleck and Lindsay Shookus together after their yearlong relationship reportedly fizzled out in August 2018.

Gotham/Getty Images
Comedians Rhea Butcher and Cameron Esposito announced via Twitter that they were "separating to live individual lives for a time" in August 2018, after nearly three years of marriage.

Paul Archuleta/Getty Images
Allen Berezovsky/Getty Images
G-Eazy and Halsey split in July 2018, just a year after the couple officially began dating.

Rachel Murray
The day after the singer Cheryl celebrated her 35th birthday, and a little over a year after she gave birth to a son named Bear with her partner of two years, Liam Payne, she and the former One Directioner posted identical tweets saying that they were "sad to announce that [they] are going [their] separate ways."

David M. Benett/Getty Images
Christian Siriano and Brad Walsh were together for 11 years and married for nearly two of those, before Walsh announced via Instagram Stories that the couple is officially over as of June 2018.

Taylor Hill
After just a few short months of dating, Emma Watson and Chord Overstreet reportedly called it quits in May 2018.

Composite. Getty Images.
"After much thought and consideration we have mutually decided to separate as a couple," Usher and his wife Grace Miguel shared in a statement announcing their divorce.

Tiffany Rose
The Preacher costars quietly dated for eight years before splitting in April—just in time for people to realize they were even a couple.

David M. Benett
After famously dating Nick Jonas, Olivia Culpo moved on to the New England Patriots player Danny Amendola, but the pair called it off post–Super Bowl.

Axelle/Bauer-Griffin
Anderson Cooper and Benjamin Maisani were together for nine years before breaking up in March.

Theo Wargo
The pair met on the set of Step Up and have one daughter together, but called it quits in early April. Their love lives on in DVD form and countless ABC Family re-runs.

Tim P. Whitby/Getty Images
After two years and many front-row fashion show appearances, Tiffany Trump and the dubiously named Ross Mechanic officially split in early 2018.

Jamie McCarthy
Though they never officially confirmed their courtship, it was reported that the rappers had broken up in the winter after seven months of dating.

Kevin Mazur
Rebecca Gayheart filed for divorce from Eric Dane after 13 years of marriage, citing irreconcilable differences.

Jason LaVeris
Sarah Silverman released a statement announcing that she'd broken up with boyfriend Michael Sheen, stating, "We just live in different countries & it got hard."
Dave M. Benett/Getty Images
The Girls creator and her musician boyfriend broke up after five years of dating, with many speculating Antonoff had moved on to mutual friend Lorde.

Scott Dudelson/Getty Images
Photo by Pascal Le Segretain/Getty Images
But Taurus on Taurus is really good. The thing with a Taurus is that once they've decided something, they aren't going to change their minds. This means that when a Taurus commits to anyone, they're really into for the long haul and beyond. Just imagine what this means, when two Tauruses decide on one another. Well, you don't have to imagine—it's your reality.
I loved reading your question because it reminded me of how Tauruses are so delightful when they're falling in love. Despite their extreme practicality about most things in life, when they feel the inklings of romance, it's like they're the first person ever to feel anything. They love the new stirrings of aching and longing for another person. They're great at demonstrating just how much they enjoy it and just how devoted they are to the person who made them feel this way. It's an amazing thing to witness. I can't lie—it gives me some hope.
In truth, I think you should be excited about your new relationship. Obviously, I don't know the particulars of his past relationship, but you're right to think that all Tauruses would be down for some new chance at happiness. Plus, your water moons are so compatible and were in love before your Taurus suns even realized that you were. Your Leo-Gemini risings means that you are both capable of throwing a party or two eventually, which will be good to do after you've both spent the better part of the spring and summer hiding under the covers feeding chocolates to each other.
So, what am I saying? Enjoy it! It's almost spring. And you're a Taurus. I know you've worked hard at so many things and earned this joy. Have fun, beautiful one.
Love,
Dorothea
Related: The Astro Poets Are Here to Help You Prep for 2018's First Mercury Retrograde
Celebrity Capricorns: See Photographs of Sienna Miller, Bradley Cooper, Kate Moss and Other Stars With the Same Astrological Sign
Photo of Mary J. Blige by Inez Van Lamsweerde Inez and Vinoodh Matadin for W Magazine.

VAN LAMSWEERDE INEZ & MATADIN VINOODH
Photo of Kate Moss by Mert Alas and Marcus Piggott for W Magazine.

Mert Alas and Marcus Piggott
Photo of Ellen DeGeneres by Michael Thompson for W Magazine, March 2007.
Photo of Jared Leto by Inez Van Lamsweerde and Vinoodh Matadin for W Magazine.

VAN LAMSWEERDE INEZ & MATADIN VINOODH
Photo of Cynthia Erivo by The Eastern Conference for W Magazine, September 2018.
American actor, Denzel Washington, born December 28th. Photo of Denzel Washington by Dan Winters for W Magazine.

Winters Dan
Photo of Harmony Korine by Andreas Laszlo Konrath for W Magazine.

ANDREAS LASZLO KONRATH
Photo of Jim Carrey by Caitlin Cronenberg for W Magazine, September 2017.
Photo of Ralph Fiennes by Ari Marcopoulos for W Magazine.

Ari Marcopoulos