The Facialist That Brad Pitt and Tilda Swinton Trust with Their Skin Reveals the $6 Secret to Avoiding Dry, Chapped Lips
Cristina Radu dishes on winter skincare.
---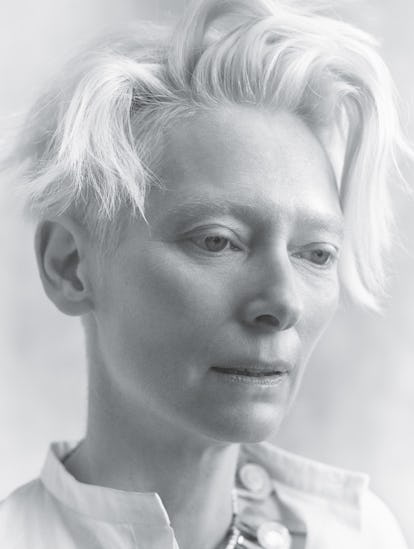 Photographs by Mario Sorrenti, Styled by George Cortina; Hair by Akki at Art Partner; Makeup by Diane Kendal for Marc Jacobs Beauty At Julian Watson Agency; Manicures by Honey for Marc Jacobs Beauty at Exposure NY.
Every winter our hands get dryer, and our lips start to crack. It's unavoidable. But, with the right care, you can glow throughout the holiday season,and beyond. Here, A-list skincare veteran Cristina Radu, who has been responsible for many of the beautiful faces on the red carpet—including Brad Pitt, Rooney Mara, Cindy Crawford, Olivia Munn, Tilda Swinton and Eva Mendes—for over 35 years, reveals her best tips for winter skincare, from the surprisingly affordable treatment for dry winter lips to the importance of exfoliation.
What are the most common skin concerns among your clients during the winter months?
Well, because of extreme temperature changes during winter months, almost everyone I see deals with skin problems related to dryness and sensitivity. This is caused by dehydration from the top layer of their skin. Even clients with oilier skin begin to feel dry on top because of the frigid air. My no. 1, absolute best piece of advice is to make sure you exfoliate gently and thoroughly. Make sure you use a more hydrating tonic lotion and increase the amount of serum and cream moisturizer you use.
My top two treatments clients use during winter are the TRANSDERM Treatment, which is a personalized facial that specifically infuses serum directly into the deepest layers of the skin and the second one is the Ultrasound Treatment. The Ultrasound saturation is exactly what it says, an ultrasound treatment where the skin tissue is filled with an anti-anti-aging cream. This reconstructive cream acts penetrates deep into the skin giving, hydrating longer and giving skin more elasticity.
How many times a week do you encourage clients to exfoliate?
Every day exfoliate the face, body, back of the hands, elbows, knees, heels…. every day. Do it gently and thoroughly, please, for your own good, and you can't go wrong! Don't just ask me, ask the beautiful Asian community who I think have the most exquisite skin. Exfoliating on a daily basis is part of the culture of clean grooming.
What are your winter travel essentials?
Personally, for me, an "airplane must" is eye drops. I can feel my eyes get dry as soon as the airplane door shuts. Makes a big difference. Also, of course, hand and cuticle cream. Remember, the airplane depletes so much moisture. I always make sure to pack a VERY hydrating and/or regenerating serum. It absorbs into the skin right away. I also bring a moisturizing mask (that I can wipe off with tissue) and if I have the time, an eye mask that I can wipe off EASILY…to keep my eyes looking refreshed. Another necessity is makeup remover wipes for dry, sensitive skin—especially for longer flights in case you want to reapply your makeup for the new time change, post-sleep or just so you can refresh your face. Also, it never gets old to say how important drinking water is for when you travel by plane or even if you are staying put in town. Drink as much as you can to ensure you are getting hydrated. You will feel energized and happy.
What items do you encourage clients to pack in their suitcase with them on winter vacations?
Hmm… it's definitely mandatory to pack an exfoliating cleansing/scrubbing gel. When you are traveling to a tropical or warmer destination from a colder climate, it's very important you take something to exfoliate with. Do not give up the exfoliating process. In warm weather you need to remove the build up of oxidized sunblock, sweat, makeup and general dust from the day. Your skin gets a clean slate morning and night so you feel refreshed and clean. If you are stuck in cold weather for most of the season, exfoliation is especially essential because you still need to slough off. The lips take a beating also. Exfoliate diligently! Take a good hand and cuticle cream, too. Last, obviously I would say also take a high quality serum and rich moisturizer with you. Don't skimp. A great balm for your lips with SPF, too. Apply morning and night earnestly. You're on a vacation, but proper skincare is just as essential as taking your vitamins.
When at home, what is the best simple home remedy your clients can use during winter?
The best home remedy to hydrate winter skin is a good body cream and facial moisturizer. Be committed especially in winter by moisturizing your hands and body. My clients use my Cellcosmet Body Cream. I love it. It feels light in texture AND penetrates very fast. I also like Paul Paul Scerri Moisturizing Body Milk. Clarins makes a great body cream, Aveeno too. Lather lotion after your morning shower or night shower. Another important must is a good mask after every workout, just before you shower. That's right, even before you start your day. Masking daily, just 10 to 15 minutes out of your day, will repair the skin from sweat and toxins. You will get a gorgeous glow and a clean canvas.
What treatment you recommend for crow's feet or dry areas around the eyes? For crow's feet and wrinkles around the eyes, or even the wrinkles around the lips and smile lines during winter or summer, my clients get the Volu-Lift treatment. This improves elasticity, stimulates the fibroblasts and rejuvenates the tissues. But really, I personalize each face with the individual treatment. What works for one client does not always work for another. Even the length of time I do a laser depends on individual face. With some clients, all they need is an oxygen facial with microdermabrasion to get their skin tighter and firmer in those troubled areas. Some, well… some need a more rigorous or longer treatment. I get a better sense after the first visit what works. There are clients I've had the same routine with for over 20-plus years that I am proud to say their skin looks sublime!
How do you help clients combat redness?
Look, some of my clients are prone rosacea and broken capillaries because of genetics ore even allergies. I always use the scrubbing gel from my own line to helps get rid of the visibility and redness.
Do you recommend certain foods to have more of during winter that help skin look better?
I actually think good, clean food for amazing looking skin all year around is my motto. You need good, healthy fats such as olive oil, avocados, almond butter, and vitamin supplements recommended individually per clients needs by their physicians. I preach a diet filled with lots of greens, grains and seeds. Again, I advise clients to drink lots of water as almost our body is made up of mostly water and the brain and heart contain over 70 percent water. Your skin shows when you are properly hydrated. The skin radiates light when it is clean and balanced.
What do you think about face oils, specifically more for winter?
I like a good face oil only after it is applied with a water soluble serum and moisturizer. It works better and it absorbs better. Skin looks less oily this way too. I apply by tapping the hands over the face with few drops especially the areas that feel dryer… top of the cheekbones and around the eyes and forehead… that will give the skin a natural glow without the overly shiny look.
What is your top winter beauty product that clients swear by?
I have two. Honestly these two are the best, and I can't see which one is better than the other: New Collagen Night Cream and New Collagen Serum. I literally cannot keep in stock in my studio. I ship them on a weekly basis to clients all over the world. These two I cannot live without and neither can my clients. I never push my own products on clients and I don't need to. Good products speak for themselves.
What is best advice to stop cracked lips this season? Okay, this is quite easy. For lips apply at night something very simple as Aquaphor or Vaseline. You heard me. Less then six dollars! In the morning after you shower, gently rub off the top of your lips with a soft cotton cloth or thin towel. The dry skin residue will just peel off. Once the lips are clean and smooth, apply a nice lip balm. Personally, no Carmex or Eos, as some people say it only works for few minutes and then after a while your lips may feel even dryer. Burt's Bees Lip Balm, Labello Lip Balm; those are great, too.
Do you have any parting words of wisdom for a smooth, clean winter complexion?
Here is one of my biggest tips for winter and for every other season, for that matter: Protect your eyes from the light with great quality lens sunglasses. Even in winter!! You prevent squinting so you can slow down the formation of wrinkles!!!! This is a no brainer!
Kim Kardashian, Zoë Kravitz, and 10 More Famous Women Share Their Best Skincare Tips
See W's most popular videos: