Will Jeff Bezos's Divorce Be the Most Expensive Ever?
Could this be the start of the Amazon kingpin's downfall?
---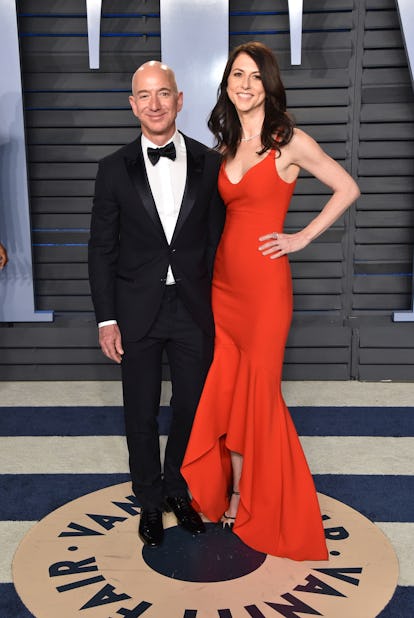 John Shearer/Getty Images
On Wednesday morning, Jeff Bezos—founder, chairman, CEO, and president of Amazon, and (therefore unsurprisingly) the wealthiest person in the world—announced to his 700,000-plus Twitter followers that, after 25 years of marriage, he and his wife, MacKenzie Bezos (née Tuttle), have decided to get a divorce. "We want to make people aware of a development in our lives. As our family and close friends know, after a long period of loving exploration and trial separation, we have decided to divorce and continue our shared lives as friends," the couple wrote in a paragraph that they signed "Jeff & MacKenzie."
This isn't just any old breakup: It also marks an end to the reign of the world's wealthiest couple. Unsurprisingly, then, it took just over an hour for at least one outlet to publish a story aiming to answer the next logical questions: How much will the divorce cost? And, to quote CNBC's headline, "How much could Mackenzie Bezos get in a divorce?"
The dollar figures are, of course, still very much up in the air, but CNBC notes that because the Bezoses live in the state of Washington, which is a community property state, it's possible any wealth accumulated during their marriage—which began a year after Bezos founded Amazon—could end up being split equally between the pair. And seeing as Jeff's profits from the company reportedly tally up to $137 billion, MacKenzie might soon have $66 billion coming her way—even though they appear to be planning to keep things amicable.
"If we had known we would separate after 25 years, we would do it all again," the pair continued in their statement. "We've had such a great life together as a married couple, and we also see wonderful futures ahead, as parents, friends, partners in ventures and projects, and as individuals pursuing ventures and adventures. Though the labels might be different, we remain a family, and we remain cherished friends."
MacKenzie, a novelist with a degree from Princeton—her former professor Toni Morrison once described her as "really one of the best" students she's ever had in her creative writing classes—first met Jeff when he interviewed her for a job at a hedge fund that she hoped would pay her bills as she pursued her career in writing. She was 23 years old when they got engaged, just three months after they began dating, and her husband was still gushing about her 20 years later: "I think my wife is resourceful, smart, brainy, and hot, but I had the good fortune of having seen her résumé before I met her, so I knew exactly what her SATs were," he told Vogue in 2013.
That $137 billion figure, however, is pre-divorce fees that may soon be incurred—and it's hard to imagine that the world's wealthiest person would get himself a lawyer who was anything less than top-tier. Plus, to fork over $66 billion, he'd likely have to sell or pledge some of his 80 million shares in the company, therefore putting his ownership and control of Amazon into jeopardy—something that might not be in MacKenzie's best interest, seeing as she has four children with Jeff, whom she described just this morning as her "cherished friend."
In any case, they're eligible to make history with one of the expensive divorces of all time. If so, they'd be in the company of Rupert Murdoch, whose split from Anna Maria Mann in 1999 led to a $1.7 billion settlement (or $2.6 billion with inflation); and Mel Gibson, whose split from Robyn Moore Gibson cost an estimated $425 million. (Though even they can't measure up to Bernie and Slavica Ecclestone, a 5-foot-4 Formula One businessman and 6-foot-2 former model, whose split cost $1.2 billion, nor the art dealer Alec Wildenstein's $2.5 billion split from the socialite Jocelyn Wildenstein, who's since become known for spending millions on plastic surgery.)
Still, the news is one of the few hints of a potential decline since Amazon's (in some ways quite literal) takeover of the world. In September, for example, reports of Amazon's at times inhumane working conditions sparked outrage. And the following month, news broke that Amazon had met with the U.S. Immigration and Customs Enforcement to pitch them their new real-time facial recognition technology, which would, of course, pose further threats to undocumented immigrants and allow ICE to further its highly controversial policies.
On the other hand, though Jeff may be no art bro, the 54-year-old will now be among the highly single tech billionaires out there. May he take solace in the fact that—at least in the world of eligible, controversial, male tech billionaire bachelors—Elon Musk has already made sure that he won't be at the bottom of the barrel.
Related: In Addition to Dating Grimes, Elon Musk Has Been Secretly Spending His Time Teaching a Small Army of Kids How to "Blow S–t Up"
In Memoriam of 2018's Most Devastating Celebrity Breakups, So Far
After eleven years together as a couple, Natalie Dormer and Anthony Byrne called off their engagement recently due to disputes from working together on their film, In Darkness.

David M. Benett/Getty Images
Robert DeNiro and his wife Grace Hightower recently announced their split after 20 years of marriage.

Taylor Hill/Getty Images
Paris Hilton and the actor-artist Chris Zylka reportedly called off their engagement in November, bringing their two-year relationship to an end. After meeting at Art Basel Miami and keeping in touch via text, the pair went on their first date—the actual first time around, since, as Zylka told W earlier this year, "I got so nervous that I cancelled and said I was sick." According to him, at least as of this past March, they hadn't spent more than four hours apart from each other since that first date, making it only natural that Zylka proposed to Hilton with a $2 million ring earlier this year. Having called things off, things are reportedly back to usual for the pair: "Paris will be focusing on her brand, like deejaying and fragrances, while Chris will get back into acting and art, like his gallery pop-ups with Banksy during Art Basel."

Michael Beckert
Antoni Porowski had been dating Joey Krietemeyer for about seven years before he became an overnight celebrity thanks to Netflix's Queer Eye, and the show's designated food expert even said that the pair were "basically married." Though, in recent months Krietemeyer didn't appear with Poroski in public nor on his popular social media channels. Us Weekly now reports that the two broke up two months ago, but that they remain friends.

Dia Dipasupil
The relationship between Diddy and "Me & U" singer Cassie has always been steeped in a mystery. They first started dating back in 2006, but had broken up and gotten back together before. As of now, the pair have once again split.

John Shearer
Pete Davidson and Ariana Grande's whirlwind relationship and engagement didn't just set a new precedent for news-cycle domination; it also arguably broke records in terms of plain old productivity. In just five months, the pair got seemingly countless tattoos together; went through bottle after bottle of bleach and hair dye; made the trek to Staten Island; moved into a $16 million apartment; adopted a pet pig; made merch for each other; and prompted a new strategy at SNL. (On a much more serious note, they also dealt with some very real tragedy: the untimely death of Grande's previous partner Mac Miller.) Davidson and Grande may have now called it quits romantically, but their bond apparently remains; according to TMZ, which broke the news, "the two still have love for each other."

Nicholas Hunt/Getty Images
Brandon and Leah Jenner announced via Instagram that they would be separating as of September 2018, after six years of marriage and 14 years together in total.

Imeh Akpanudosen
Shortly after Noah Cyrus and the rapper Lil Xan made their red-carpet couple debut, at the 2018 MTV VMAs, cheating rumors reportedly put an end to the relationship in September 2018.

Axelle/Bauer-Griffin/Getty Images
The short summer fling between Camila Mendes and her boyfriend Victor Houston reportedly ended with some deleted Instagrams in August 2018, about a month and a half after the two were spotted celebrating the Riverdale star's birthday in Montauk.

Photo by @victorhouston.
The endless iced coffee dates could not keep Ben Affleck and Lindsay Shookus together after their yearlong relationship reportedly fizzled out in August 2018.

Gotham/Getty Images
Comedians Rhea Butcher and Cameron Esposito announced via Twitter that they were "separating to live individual lives for a time" in August 2018, after nearly three years of marriage.

Paul Archuleta/Getty Images
Allen Berezovsky/Getty Images
G-Eazy and Halsey split in July 2018, just a year after the couple officially began dating.

Rachel Murray
The day after the singer Cheryl celebrated her 35th birthday, and a little over a year after she gave birth to a son named Bear with her partner of two years, Liam Payne, she and the former One Directioner posted identical tweets saying that they were "sad to announce that [they] are going [their] separate ways."

David M. Benett/Getty Images
Christian Siriano and Brad Walsh were together for 11 years and married for nearly two of those, before Walsh announced via Instagram Stories that the couple is officially over as of June 2018.

Taylor Hill
After just a few short months of dating, Emma Watson and Chord Overstreet reportedly called it quits in May 2018.

Composite. Getty Images.
"After much thought and consideration we have mutually decided to separate as a couple," Usher and his wife Grace Miguel shared in a statement announcing their divorce.

Tiffany Rose
The Preacher costars quietly dated for eight years before splitting in April—just in time for people to realize they were even a couple.

David M. Benett
After famously dating Nick Jonas, Olivia Culpo moved on to the New England Patriots player Danny Amendola, but the pair called it off post–Super Bowl.

Axelle/Bauer-Griffin
Anderson Cooper and Benjamin Maisani were together for nine years before breaking up in March.

Theo Wargo
The pair met on the set of Step Up and have one daughter together, but called it quits in early April. Their love lives on in DVD form and countless ABC Family re-runs.

Tim P. Whitby/Getty Images
After two years and many front-row fashion show appearances, Tiffany Trump and the dubiously named Ross Mechanic officially split in early 2018.

Jamie McCarthy
Though they never officially confirmed their courtship, it was reported that the rappers had broken up in the winter after seven months of dating.

Kevin Mazur
Rebecca Gayheart filed for divorce from Eric Dane after 13 years of marriage, citing irreconcilable differences.

Jason LaVeris
Sarah Silverman released a statement announcing that she'd broken up with boyfriend Michael Sheen, stating, "We just live in different countries & it got hard."
Dave M. Benett/Getty Images
The Girls creator and her musician boyfriend broke up after five years of dating, with many speculating Antonoff had moved on to mutual friend Lorde.

Scott Dudelson/Getty Images
Photo by Pascal Le Segretain/Getty Images