Alejandra and Richard Gere Are Expecting Their First Child Together
And the fetus has already been blessed by HH the Dalai Lama.
---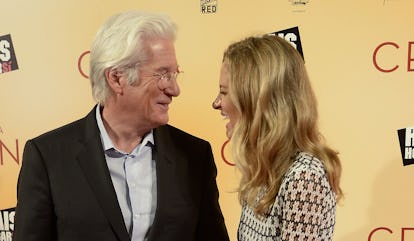 Photo by Fotonoticias/Getty Images
The actor Richard Gere, 69, and his wife, Alejandra Gere, 35, are expecting their first child together. They announced the baby news in the most extra way possible. No, not with an over-the-top photoshoot or weeks of cryptic messages. Alejandra just casually posted a picture of the Dalai Lama blessing her unborn child.
She captioned the picture, tagged the Netherlands, in English and Spanish, writing, "A very special moment just a few minutes ago…Getting blessings for our precious to come…we couldn't announce it before telling HH Dalai Lama☺️ Un momento muy especial para nosotros hace unos minutos…Muy feliz recibiendo bendiciones para nuestro preciado tesoro por llegar…no lo podía anunciarlo sin antes habérselo dicho a su SS Dalai Lama…☺️ #dalailama #richardgere #alejandragere #love." Just a few minutes ago! So by Sunday afternoon, American time, this woman had already had her fetus blessed by His Holiness. And what have you done with your weekend?
Can you imagine if this were how everything worked? Like, if you couldn't post about your promotion on LinkedIn until you'd let President Obama know about it?
This will be the second child for both parents, and their first together. Per JustJared, "Richard has one son, Homer, 18, and Alejandra has a son, Albert, 5."
The couple has been vacationing recently, and judging from Ms. Gere's Instagram, it's been one romantic babymoon:
If this news sounds a little familiar, don't worry, you aren't losing your mind. Spanish publications and some other tabloids first reported the pregnancy back in August, but it wasn't officially confirmed until today. They take their time going public, like when they waited weeks to announce that they'd gotten married. That's just the Geres' style!
Obviously, our congratulations will pale in comparison to those of a world spiritual leader, but we humbly offer them anyway. Congrats, you two!
Related: Richard Gere Reportedly Married Alejandra Silva in a Secret Ceremony in Early April
A Guide to the Many, Many New Celebrity Babies of 2018 (So Far)