Chanel Iman and Sterling Shepard Have Welcomed Their First Child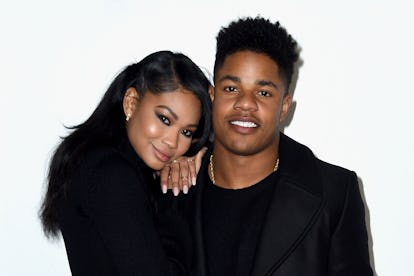 Nicholas Hunt/Getty Images
Congratulations to Chanel Iman and Sterling Shepard, who have welcomed their first child, Cali Clay Shepard. The Victoria's Secret Angel and New York Giants wide receiver announced the happy news on Instagram over the weekend.
"You were worth every push[,] every contraction! Welcome to our world @caliclayshepard[.] Love mommy and daddy @sterl_shep3," Iman wrote alongside a pic of the three in her hospital bed. She revealed in a follow-up post showing Cali Clay snuggling on her chest that the baby's official birthday was August 10, 2018. Shepard broke the news to his fans with this photo as well, captioning it, "Everything I do is for you two. My world!"
Fittingly, for the child of a supermodel and a football star, at just three days old, the newborn already has her own Instagram account. And less than 24 hours after her social media debut, the infant has amassed 6,744 followers and counting. Meanwhile, she's only following three people: her mom, her dad, and fellow famous baby Naleya Rose van der Wiel, the child of model Rose Bertram and football player Gregory van der Wiel.
Iman revealed she was pregnant back in May, with a series of Instagram posts on Mother's Day, all taken by photographer James Macari. "Daddy and Mommy can't wait to meet you," she captioned a black-and-white photo of her gazing down at her belly. "As I approach motherhood I want to wish a Happy Mother's Day to all mothers and mommies to be [sic]." She followed that up with two more posts: Alongside a photoshoot of her and Shepard in matching jeans, she wrote, "We both are blessed in many different ways, that our love has created a wonderful new life and can't wait for this ultimate blessing to arrive. We thank God for allowing us this opportunity to become parents and can't wait to hold our baby in our arms!" She then wrapped up the very editorial announcement with one more photo of herself smizing and showing off her belly. "Our fairytale continues as we wait for the birth of our baby," she wrote in the caption. "Our love grows each day, @sterl_shep3 and I can't wait to share it with our little one."
A Guide to the Many, Many New Celebrity Babies of 2018 (So Far)
Related: Chanel Iman and Sterling Shepard's Surprise Wedding: Everything We Know