Kehlani Is Expecting Her First Child
She made the announcement on social media.
---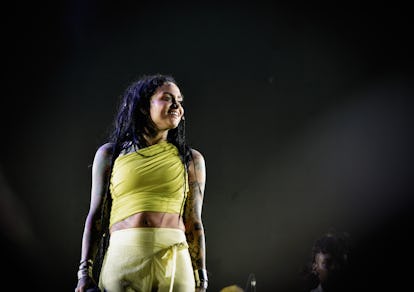 Chelsea Guglielmino/Getty Images
Kehlani is having a baby girl! The singer took to Instagram and Twitter on Friday to announce she's four months pregnant with her first child. Her tweet was very short and very sweet: "SHE DONT WANNA HIDE NO MO!" Kehlani wrote in reference to her very prominent baby bump. "This was so hard to contain. i'm so so so happy. the highest blessing one could receive. i love you already, mama. 4 months & so grateful," she added, alongside three photos.
On Instagram, the 23-year-old elaborated on her pregnancy with a heartfelt message in which she thanked her partner and spoke directly to the baby growing inside her. "I am so honored to be given this gift by spirit, creator, and an amazing partner whom i trust with my body and life…dearest little girl, i am so proud to be your mommy. i am so proud to have received you. i cannot wait to meet you," she wrote.
In fact, Kehlani already has a nickname for her daughter, revealing that she's calling her "little pumpkins." She also explained how much the idea of being a mother means to her. "If you know me, you know i've dreamt about motherhood since i was very young. when asked what my goals are, it's always the idea of a big healthy happy family & whatever comes along is a plus," she wrote.
Finally, Kehlani revealed that she's planning on having a natural birth at her home, and thanked her "amazing" midwives. And if this post is any indication, we can expect to hear a lot more from the singer as her pregnancy progresses. "I am happy to document this journey and feel the freedom any pregnant person should," she wrote. "I'm looking forward to sharing my little world with you all…"
She also explains how she kept the news a secret for so long.
A Guide to the Many, Many New Celebrity Babies of 2018 (So Far)