Kim Kardashian Said Good Night to Ariana Grande With a Lime Green Thong Instagram
Sweetener is the mood for when you're feeling yourself.
---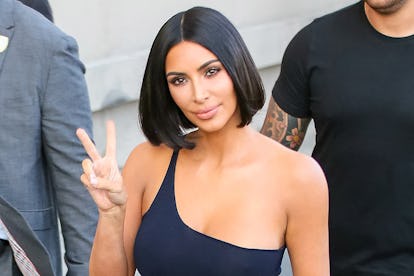 BG017/Bauer-Griffin/Getty Images
Proving once again that Ariana Grande makes music for when you're just really feeling yourself, Kim Kardashian West posted a picture to Instagram of herself on Friday night in a G-string thong and captioned it "Say goodnight and go…," a lyric from Grande's song "Goodnight N Go," off her new album Sweetener. (Not to be confused with the song "Goodnight and Go" by Imogen Heap, which is what pops up when you Google "goodnight and go lyrics," which we just did.)
People reports that Grande herself liked the picture and commented "Omg ily"—short for "I love you," in case you're old or something.
In the picture, Kardashian West is taking a mirror selfie, even though clearly there is someone about a foot away from her who is already taking a picture of her as she takes a picture of her reflection, but, just go with it. She's perched on a makeup table, as is a black bag with pictures of her and her sisters on it. But what's more noteworthy here, from a fashion perspective, is Kardashian's continued dedication to lime green.
The thong and top are both neon lime green, as was the two-piece she wore in a post advertising her makeup line:
That outfit also featured a Gucci thong so iconic, it's in an art museum. So, Kim Kardashian's pre-fall look: neon green and thongs. In recent weeks she also wore a neon green wig that matched her neon green to match her neon green Ferrari in Miami, and a neon green bodycon dress to 2 Chainz' wedding.
Does this mean we can expect Kanye West and Kim Kardashian West in coordinated highlighter-bright outfits at Grande's eventual wedding to fiancé Pete Davidson? We'd love to see pictures of the mirror selfies at that!
Related: Kim Kardashian West Takes Miami in a Long Green Wig — to Match Her Ferrari, of Course
The 9 Most Unexpected Celebrity Couples Who've Survived 2018 So Far