Candice Swanepoel Welcomes Second Child With Fiancé Hermann Nicoli
Their first child, Anacan, was born in 2016.
---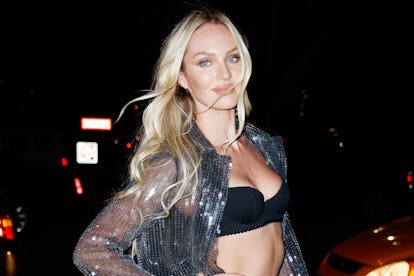 Jackson Lee/Getty Images
Congratulations! Candice Swanepoel and fiancé Hermann Nicoli have welcomed a baby boy. The Victoria's Secret Angel made the announcement Tuesday via her Instagram Story, uploading a close-up of the newborn's hand wrapped around one of his parent's index fingers with a heart drawn over the image and the caption, "Blessed." The child is the couple's second child after their son Anacan, who was born in October 2016.
Swanepoel first announced she was pregnant with her second child in December 2017, when she posted a photo of her cradling her baby bump on Instagram. "Christmas came early…#2," she wrote in the caption. This led fans to deduce that she'd walked the Victoria's Secret Fashion Show (her first following the birth of her eldest) pregnant, as Irina Shayk had done in 2016. Over the next six months, the model uploaded several more baby bump posts, including one in which she revealed the baby's sex. Under a video posted on January 20, in which Anacan is shown planting a kiss on his mother's belly, Swanepoel wrote, "My boys."
All of this led to her second-to-latest post, uploaded less than 24 hours before the birth of her new baby boy. Under a photo of herself smiling at Anacan while he goofs around and shows her his belly, Swanepoel wrote, "Monday morning cuteness[.] Hoping to meet our newest addition soon! So ready for the next phase..and to be able to see my toes again. X."
Previously, the model opened up to People about her experience as a mother. "He's been so sweet and been so good. Everybody is like, 'You're so blessed with a good baby,'" she told the magazine in August. "I feel like the next one will be a terror just to remind me."
She later elaborated on her experience on Mother's Day, when she uploaded a photo of herself holding Anacan. "Motherhood isn't always easy but it's the most rewarding, powerful thing I've ever experienced, so many different emotions each and every day," she wrote in the caption. "The unconditional love I feel for my son gives me a strength I never knew I had. It's a patient and gentle strength that only comes with the enormous responsibility of bringing another soul into the world. Sending love to all the mamas out there, we are all just winging it and doing the best we can do. There is no formula to being a good mom. Just love with all your being."