Plantation Weddings Will No Longer Be Freely Promoted on Pinterest and The Knot
Thanks to new policies for venues that romanticize their horrific pasts.
---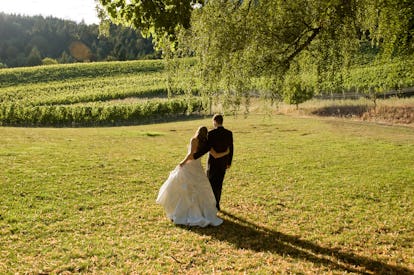 sjharmon/Getty Images
The idea that a celebrity as prominent as Blake Lively or Justin Bieber would get married at a former concentration camp is practically inconceivable. And yet, both Lively and Bieber have in fact chosen to get married at the sites of former forced labor camps in recent years—and emerged from the backlash unscathed. (Lively and her husband, Ryan Reynolds, who wed at "America's most photographed plantation" in 2012, have weathered only occasional waves of criticism—and apparently not enough to dissuade Bieber from hosting his own "plantation wedding" at a resort that was once home to no less than 21 plantations, including at least one owned by a Confederate commander.)
The concentration camp comparison is just one of many points the civil rights advocacy group Color of Change has been attempting to bring to the attention of the internet's most popular wedding-planning platforms, in a bid for them to cease promoting venues that romanticize slavery and horrific abuses of human rights. At last, they've found success: On Wednesday, Buzzfeed News reported that Pinterest and The Knot Worldwide (which owns WeddingWire and The Knot) are changing their policies in an effort to moderate content that portrays the history of Southern plantations in a positive light.
"Weddings should be a symbol of love and unity. Plantations represent none of those things," a Pinterest spokesperson told Buzzfeed News. "We are working to limit the distribution of this content and accounts across our platform, and continue to not accept advertisements for them."
The Knot Worldwide's websites will still allow plantations on their venue lists, as long as they don't use language such as "charming" or "elegant" to describe their pasts. (That includes "manors," "farms," and other venues that have attempted to quietly rebrand by dropping the word "plantation" from their names.) "We want to make sure we're serving all our couples and that they don't feel in any way discriminated against," the company's chief marketing officer told Buzzfeed News.
The Knot Worldwide is currently working on additional guidelines with Color of Change, which sent a letter that originally prompted the company to reevaluate its content moderation. ("Plantations are physical reminders of one of the most horrific human rights abuses the world has ever seen," it read in part. "The wedding industry routinely denies the violent conditions Black people faced under chattel slavery by promoting plantations as romantic places to marry.")
Color of Change sent a similar letter to leading wedding-planning platforms like Brides, Martha Stewart Weddings, Zola, and Pinterest, though as of Wednesday only the latter had replied. Meanwhile, "plantation wedding" content is alive and well on plenty of non-bridal platforms; at the moment, there are more than 14,500 posts tagged with "#plantationwedding" on Instagram.
Update, 12/5/19, 2:15 p.m.: In a statement shared with W on Thursday afternoon, Zola announced that it is now also updating its policies and partnering with Color of Change. The company has also already gone a step further than Pinterest and The Knot Worldwide: Zola has removed all plantation venues listed on its website, and, according to a spokesperson, is actively evaluating weddings on Zola that were photographed at those venues in the past. Read the full statement below:
"We re-evaluated all our venues listed on Zola and determined we will not allow vendors to list who are plantations. We recognize that this is a painful issue and have been evaluating on an ongoing basis. We appreciate Color of Change for bringing this issue forward, and will work with them and additional organizations to ensure our policies and guidelines are inclusive and make everyone feel welcome."
Meanwhile, the owner of Boone Hall Plantation, Willie McRae, has also weighed in. In an interview with the New York Times, McRae expressed confusion at the backlash following Blake Lively and Ryan Reynolds's wedding at Boone Hall. "We've been a farm for 300 years; I don't want to make anything racial out of it," he said. "There were bad acts that happened on some plantations, but not all plantations. This was one of the first ones that taught slaves to read and write."
Related: Hailey Bieber Hid Inside a Tent Before Walking Down the Aisle at Her Wedding
The Biggest Celebrity Weddings of 2019 (So Far)