Behold Kim Kardashian West's Complete Failure to "Keep It Cute" Around Tristan Thompson
Khloé, for her part, remained mature.
---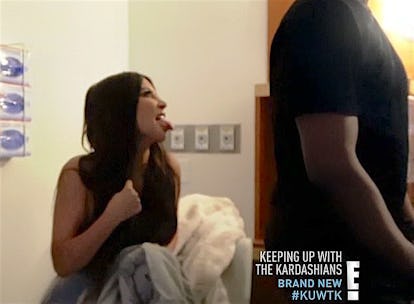 Courtesy of E!
Khloé Kardashian gave birth to her daughter, True Thompson, a full six months ago, but the Kardashians have always had their own concept of time—particularly when it comes to documenting their lives on Keeping Up With the Kardashians. And so, on Sunday night, in the show's latest episode, they carried right on in sticking to their unabashedly warped time line, flashing back to April 12, 2018—aka the best day of Khloé's "ENTIRE LIFE," as she tweeted during the episode's airing.
Of course, as her sister Kim Kardashian West has been consistently quick to remind the world, things were a bit more complicated than that: Khloé gave birth to True right after catching wind of her daughter's father Tristan Thompson's reported cheating scandal—not that Khloé appears to believe that it merits the word "reported." (She later minced no words in summing up the whole saga as Tristan, aka "a complete piece of shit," "obviously fuck[ing] up, major.")
Going even further back, Khloé started out by simply declaring "this is crazy" to Tristan during what was apparently their first reunion since the scandal—or, at least, the first one that the cameras happened to have been there for. Indeed, contrary to what you may expect from someone going through childbirth, Khloé seemed thrilled to have the whole affair documented, while looking miraculously sweat-free and camera-ready, welcoming True into the world with a full face of makeup. (She even later thanked her friend Rich Youngin for not only driving her to the hospital but also documenting that night, tweeting, "He may have been annoying me during my contractions but WO him we would not have most of this footage!")
That footage was taken in Tristan's hometown of Cleveland, where Kris Jenner was, of course, the first family member to show up to support Khloé, with Kim and Kourtney Kardashian quickly following suit, doing their best to ignore the elephant in the room. "I just have to be there for her," Kim said in her one-on-one confessional. "As much as I wanna go off, I just don't think it's the time, so I'm gonna keep it cute."
But Kim, it turns out, has a very fluid idea of "cute." She may have largely kept her mouth shut while in the delivery room—at least while on camera, anyway—but she did make sure the camera was trained on her when she took the opportunity to silently rebuke Tristan, whom she'd just hugged after Khloé asked the pair whether or not they were going to talk. Once they wrapped up the hug and Tristan had his back turned, though, Kim mimed slicing his throat by drawing a finger across hers in a move whose denouement was her pointedly sticking out her very pointed tongue in his direction. (She stopped short of being truly menacing by returning her gaze to the camera with a sly grin, though once safely on a private jet with Kourtney, after spending less than 24 hours in Cleveland, she let her sister know what had really been going through her head: "I was like, This will be like Mayweather and Pacquiao, and I am Mayweather. So are you ready?"
Kim also made her true feelings clear in the most Kim way possible: by unfollowing Tristan on Instagram. Tristan clearly noticed, as Kim went on to share in a scene showing her immersed in her phone: "He blocked me! What a fucking loser. Literally, what a fucking loser." She then immediately called Khloé to ask her how old Tristan is; Khloé, who was then 33 and clearly not amused, informed her that "he's 27. Only 27-year-olds know how to block someone. I don't even know how to block someone." She also didn't know exactly what Kim meant when she told her that "it's on," prompting Kim to elaborate: "It just means when I see him, I'm going to spit on him."
It doesn't seem as though Kim ever made good on that promise, as the cameras no doubt would have been there to capture it, but she did later tell their mom, who described Tristan as "obviously very remorseful," while holding a dog and hanging out in a garage, that she had told Tristan she thought he was more remorseful because it was affecting his job and image: "I think he's more embarrassed that he looks stupid," she continued. "And I told him that." (The family apparently had a private talk with Tristan without any cameras present, in which they expressed "exactly" how they felt.)
Khloé initially seemed unaware of all that, telling the camera in her own confessional that she was "really grateful" that "everyone put their differences aside for that moment." She has, of course, since caught up on everything that went on behind the scenes; Kim didn't exactly keep her feelings quiet from the rest of the world, either, discussing "poor Khloé" while on air with Ellen DeGeneres just a couple of weeks after True's birth, summing things up as "just so fucked up." It was at that point that Khloé went on to agree with her and call him "a complete piece of shit"—one who, jumping to the present, she and True are apparently about to spend Thanksgiving with.
Related: Watch the Moment the Kardashian Sisters Found Out About Tristan Thompson's Alleged Infidelity
A Guide to the Many, Many New Celebrity Babies of 2018 (So Far)