A Ranking of the "Interesting" Celebrity Baby Names, From Kulture to Blue Ivy
This is the non-Kardashian edition.
---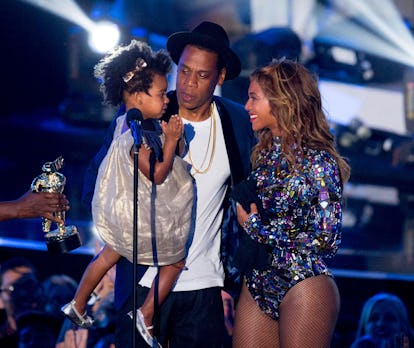 Mark Davis/Getty Images
Thanks to new mothers Kylie Jenner and Khloé Kardashian, this year has seen the Kardashian family tree expand wider than ever, most notably with Stormi and True. Let's not forget, though, that there are also other celebrities in this world—ones who've also been busy coming up with their own celebrity baby names as of late. This week, for example, Cardi B gave birth to her child with Offset, which could've made news just because of the baby's name: Kulture Kiari Cephus, which is not only a mouthful, but also a clear infringement on the Kardashians' domain of K's.
Before that, though, recent history has not disappointed when it comes to thinking outside of the box while naming one's spawn—to the point that over the course of just a few years, Kate Winslet and Alicia Silverstone both happened to call their children Bear. So we felt it was time to rank the most "interesting" celebrity baby names. Here, our very subjective list.
8. Sunday
Ah, Sunday: the day you spend putting off washing your sheets and dreading getting back to the work week. Evidently, the word has much more positive connotations for Nicole Kidman and Keith Urban, seeing as they named their now 10-year-old daughter just that.
7. Bronx Mowgli
Back when Pete Wentz and Ashlee Simpson were married,she gave birth to a son that they decided to name Bronx Mowgli (so: New York borough + Jungle Book character). After clarifying to Ryan Seacrest that the name was not, in fact, a joke, Wentz elaborated on their decision, citing his and Simpson's shared love for the Jungle Book and leaving "Bronx" up to interpretation, other than to say they had been "throwing [it] back and forth a while ago."
6. Moroccan
In 2011, Mariah Carey gave birth to twins with her then-husband, Nick Cannon, whom the couple named Monroe and, um, Moroccan. No, not Morocco, which would have actually rhymed with Monroe. While Monroe is an homage to Marilyn Monroe, Moroccan is actually an homage to Carey's apartment in New York where Cannon proposed to her, which is home to her so-called Moroccan room. It's certainly helped the now 7-year-old stand out even further, now that he's moving in on his mom's title of reigning diva.
5. Cricket Pearl
Busy Philipps has so far had two daughters with her husband, the screenwriter Marc Silverstein, both of whom they named rather eccentrically: Birdie Leigh, who was born in 2008, and Cricket Pearl, born in 2013. Sure, Birdie isn't particularly usual, but it's Cricket in particular that really stands out—to the point that People felt compelled to publish a story with the headline "Busy Philipps: Why We Named Our Baby Cricket." Apparently, a week after her birth, the couple still hadn't come up with a name, prompting the hospital to call them for a confirmation, and Silverstein put his screenwriting skills to use by dreaming up the character Cricket Pearl, whom he imagined as being "the coolest camp counselor" and "hot in college."
4. Saint
Other than anointing himself Yeezus, is there any better way for Kanye West to drive home the fact that he thinks he's god—as well as set some sky-high expectations—than to christen his and Kim Kardashian's only son Saint?
3. Blue Ivy
Blue Ivy Carter Proves It's Possible to Have a Sense of Style at Age 5
Blue Ivy Carter wearing a pink dress, pink shoes, and pink sunglasses (with pink hair beads to match), in March 2017 to see an Alvin Ailey dance performance.

Courtesy beyonce.com.
Blue Ivy Carter and her mother, Beyoncé, wore matching green Gucci dresses (plus Converse) to attend the premiere of Beauty and the Beast in March 2017.

Courtesy beyonce.com.
Blue Ivy Carter attended the 2017 Grammy Awards wearing a pink Gucci suit with a black panther on the back, plus a Prince-inspired ruffle blouse and a glitter cat clutch to match.

Kevin Mazur/Getty Images
Blue Ivy Carter attended the CFDA Awards on June 6, 2016 in New York City with her father wearing a feather-trimmed dress, white blazer, and matching bow.

Robert Kamau/Getty Images
Beyonce and Blue Ivy Carter attended the 2016 MTV Video Music Awards at Madison Square Garden on August 28, 2016 in New York City wearing matching princess gowns.

Larry Busacca/Getty Images
Blue Ivy Carter wore an $1,800 green Gucci dress to the 66th NBA All-Star Game at Smoothie King Center on February 19, 2017 in New Orleans, Louisiana.

Kevin Mazur/Getty Images
Blue Ivy Carter dressed up with her parents, who went as Barbie and Ken for Halloween. Her leather jacket bore the Barbie logo as well.

Courtesy @beyonce.
Beyoncé stepped out in head-to-toe pink Gucci, while her daughter, Blue Ivy Carter, wore a distressed denim, "Slay" jacket and pink Converse sneakers to match.

Courtesy @beyonce.
Beyoncé stepped out in head-to-toe pink Gucci, while her daughter, Blue Ivy Carter, wore a patched denim jacket. But of course, their Gucci bags matched.

Courtesy @beyonce.
Blue Ivy Carter and Beyoncé went for a stroll on Mother's Day in 2016. Carter wore all-pink with flowers in her hair, and her mother complimented her in red and orange.

Courtesy @beyonce.
A young Blue Ivy Carter got into her mother's makeup kit, it seems. Here, she applies lipstick in a sequin tutu with rhinestone stickers on her forehead.

Courtesy @beyonce.
Similarly, is there any better way for Beyoncé to demonstrate how much power she has over the world than naming her and Jay-Z's daughter something as seemingly random, ridiculous, and impossible to pull off as Blue Ivy? (No—except perhaps naming one of their other children Sir.) In the six years that she's been on this earth, Blue has, of course, managed to live up to her name, as evidenced by—for starters—her already having a stylist, and liberally scolding her grandma on her Instagram usage.
2. Apple
Comparatively, this baby name isn't too odd these days. Still, Apple, which Gwyneth Paltrow and Chris Martin named their newborn in 2004, arguably sparked some of the most creative ones to follow in the 21st century. (Paltrow later elaborated to Oprah that she chose it because apples are "so sweet," "wholesome," "biblical," and "clean!")
1. Kulture
The baby may have entered the world less than 48 hours ago, but already, Cardi B and Offset's offspring has taken the cake with the name Kulture Kiari Cephus. There's a lot to unpack here: It was bold when Migos named their albums Culture and Culture II, making naming a baby so is even bolder—especially when spelling it with a Kardashians-adjacent K. What's more, Cardi unveiled the baby's name via a pregnancy portrait that strikingly resembled Beyoncé's. Is there anyone she's not afraid to mess with?
Related: The Official Ranking of Kardashian Baby Names, from North West to True Thompson
A Guide to the Many, Many New Celebrity Babies of 2018 (So Far)