Last-Minute Wedding Planning Advice From Lainy Hedaya, Who Married Her Husband 9 Months After They Started Dating
Although she didn't have a wedding dress until 6 days before the ceremony, everything worked out in the end.
---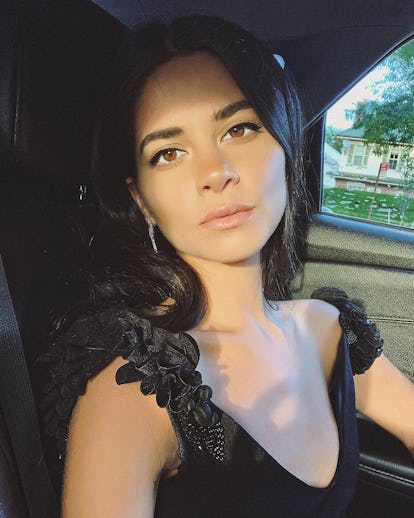 Six days before her wedding, Lainy Hedaya didn't have a wedding dress.
Despite being one of the most diligent and organized street style stars, it was hard for the It girl to find something she loved, that fit her body and her sense of style. "I felt like everyone was ready for our wedding but me. It was six days before the wedding and I didn't have a dress that fit me yet," she said. " 'Stressed' was not even the word!"
Then, a friend of Hedaya's suggested Esti's, a wedding dress store in Brooklyn that had a handful of designer bridal gowns available for purchase right off the rack. "I ended up with a beautiful dress by Isabelle Armstrong," she said, with a sense of relief.
Dress shopping wasn't the only part of Hedaya's wedding planning process that was rushed. Of course, that has a lot to do with the timeline of Hedaya's relationship with her now-husband, Martin Hoffstein. Although the couple had been acquainted through mutual friends since they were tweens, they only started dating at the end of 2017—less than a year before they got married in August. "We met up on a trip in Scotland, and we started dating within a week," she explained. "Nine months after our first date, we married."
But even with a short engagement, everything was somehow in order for the big day: the synagogue; the hair and makeup concepts; the visuals team, which consisted of a photographer, a videographer, and even a drone expert.
Even the honeymoon was planned, though, that, too, had a last-minute crunch. Hedaya packed for her adventure to Italy, which included stops in Capri, Positano, and Puglia, the night before her flight. "I am pretty good at last-minute packing," she said. "My favorite part of travel is to vibe with where I go. When I got to Capri, I separated each look by the vibe. Capri was feminine, Positano was more glam, and Puglia was more earthy."
Now that she is settled back in New York, with that unmistakable newlywed glow, Hedaya has a few tips for future brides-to-be, whether they are getting married in nine days or nine months: "Don't leave anything to the last three weeks! I was so stressed before the big day—in and out of fittings. The week before your wedding should be all spa, hair treatments, waxing, nails, etc. [With a wedding dress,] fit is everything. Focus more on what silhouette looks best on you, and how to look like your best self: that alone will make you shine. And hire a bridal attendant!"
Of course, Hedaya has plenty of fashion advice that doesn't pertain to weddings, too. Here, she explains her sense of style, her favorite pieces, and more:
Describe your style in three words: Modern, elegant, rock 'n' roll. I feel like every point in my adolescence has inspired my style.
What is your go-to outfit for a day off: I always wear black high-waisted, loose-fit denim with a men's shirt, and boots with a little heel.
Who is your ultimate style icon, and why? Carine Roitfeld, because I want to have that level of a vibe.
Best fashion advice you ever received: You're better off owning a few good quality things and repeating outfits than owning clothing that disintegrates after a few washes. So be organized and buy good, classic pieces.
Most prized possession in your closet: Mugler triple-platform pony hair blue curved-heel Mary Janes. Yeah, if I have to describe something that verbosely, you know it's a work of art. I don't wear them, though.
First major fashion purchase: Giambattista Valli off-white lace chiffon dress. I got it over 10 years ago. It's still gorgeous!
What was the last thing you purchased? Large khaki cargo pants.
Currently on your shopping wish-list: A Stella McCartney faux fur coat, a Guiliva Heritage Collection velvet coat, an Alexandre Vauthier velvet dress, Oscar de la Renta earrings, an Anissa Kermiche body necklace, a Loewe bag, Monse plaid shoes, and Christian Louboutin shiny boots.
TV character whose style you most admire: Rachel Brosnahan's Midge Maisel on The Marvelous Mrs. Maisel. It's probably the best costume design I have ever seen in a show.
Best fashion tip picked up on set: Highlighter on the body makes skin glow!
What was your style like as a teenager? Black dirty Converse high tops, gray skinny jeans, black band T-shirts, a chic vintage ankle-length Armani coat…and more than enough eyeliner.
Biggest fashion regret? I'd say more old hairstyles and makeup rather than fashion. That eyeliner in middle school—damn. I looked like Jack Sparrow.
Where are you favorite places to shop? Joseph in SoHo, Bergdorf Goodman, Proenza Schouler, the Webster, Moda Operandi, Manolo Blahnik, Loeil, Net-a-Porter.
Favorite red-carpet outfit you've ever worn: I wore a gorgeous Reem Acra dress to the American Ballet Theatre Gala…I got the dress four hours before the event.
Favorite fashion moment from pop culture: Cher in the 1970s.
What is always in your bag? Burt's Bees pomegranate lip balm.
Song to listen to when getting ready: "That's Not Me," by Skepta (this one's for my husband!).