Who is Isha Ambani, the Ultrawealthy Bride Whose Indian Wedding Includes Hillary Clinton and a Beyoncé Performance?
The daughter of India's wealthiest man is somehow outshining Priyanka and Nick.
---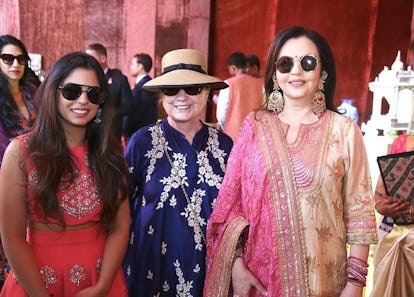 Courtesy of @udaipurmodels
It's hard to imagine that a wedding could be more hyped or over-the-top than that of Priyanka Chopra and Nick Jonas—a three-day long extravaganza whose guests included Joe Jonas, Sophie Turner, and Dwayne "The Rock" Johnson—but barely a week later in India, Isha Ambani, a 27-year-old heiress, and her fiancé Anand Piramal, the 33-year-old founder of Piramal Realty, have already done just that. (Though not exactly surprisingly so, given that Ambani's father, Mukesh Ambani, is the wealthiest person in India; currently the Reliance Industries conglomerate's chairman, his net worth is valued at $47.3 billion.)
It's only in the pre-party stage, but the festivities have already included a private concert by Beyoncé, who brought along her mom, Tina Knowles, and her husband, Richard Lawson. And that's not all: There are so many pre-wedding festivities set to follow that to help their guests keep track of the schedule, the bride and groom created a custom app.
Naturally, then, the Knowles have only made up a ultrateeny portion of those who began to arrive in Udaipur, India, over the weekend; there were so many, in fact, that traffic at the city's airport quadrupled on Saturday, in advance of the main ceremony this Wednesday at the Ambanis' residence in Mumbai. Of course, there's no better motivation for guests to get a head start than the prospect of a private concert from Beyoncé; it wasn't long before Hillary Clinton, a longtime friend of the Ambanis, joined her, keeping company with Arianna Huffington, British businessman Martin Sorrell, newlyweds Deepika Padukone and Ranveer Singh, and the so-called King of Bollywood, Shah Rukh Khan.
The festivities, which have adopted a moniker of their own—"the big, fat Indian wedding"—have so far taken place at the 16th-century City Palace overlooking Lake Pichola in Udaipur. Seeing as Ambani celebrated getting engaged to Piramal this fall by inviting 600-plus guests to join the couple in Lake Como for no less than three days of festivities, which included a private concert by John Legend, Beyoncé is no doubt only the beginning of what's to come.
After all, while it may not come close to her father's nearly $50 billion, Isha Ambani has already built up an impressive net worth of her own: an estimated $115 million, thanks to her own forays into business. Born in Maharashtra, she headed to the States to study at Yale, earning a degree in psychology and South Asian studies in 2013, before making her way to New York to work at the management consulting firm McKinsey. Early on, her hard work paid off: by the time she was in her early twenties, she was a regular on rankings of Asia's top up-and-coming businesswomen. And, by her mid-twenties, she'd joined the boards of Reliance Industries, the largest private sector company in India which she'll one day inherit.
While she considers growing Reliance to be her "dharma," Ambani has also made an effort to stand on her own, branching out from oil and telecom into fashion retail by overseeing the launch of the retailer AJIO in 2016. Seeing as she's also fond of wearing Valentino and custom Dior, it's only natural that Vogue enlisted her to speak at their tech summit in Sydney last year, when she was all of 25. (Ahead of her appearance, she spoke with Vogue Australia about her hopes to inspire "more women to join the workforce" in India, and the pressure that comes with being born into the country's wealthiest family; as she put it at the time, "People are watching you and waiting for you to fail. I feel like I have to work twice as hard in order to dispel the stereotypes associated with working for your dad.")
Lately, though, she appears to have dedicated a significant amount of her ambition to wedding planning. All in all, the festivities will reportedly add up to around $100 million—or just $10 million shy of the equivalent that Prince Charles and Princess Diana spent to mark their own marriage in 1981. (Ambani's fiancé is, of course, also no stranger to wealth: he's currently at no. 22 on Forbes's 2018 list of billionaires in India, with a net worth of $4.6 billion.)
Considering that Chopra and Jonas are each worth a paltry $25 million or so in comparison, though, they certainly held up in terms of competition. Rest assured that the couple appears to have no hard feelings, either: They may have so far hidden from the cameras, but they're in fact among those in attendance themselves.
Related: Priyanka Chopra's First Wedding Gift Is Worth a Small Fortune
All of the Celebrities Who Have Gotten Married In 2018 (So Far)