Pete Davidson Sent Ariana Grande Pictures of Engagement Rings After Their First Date
He started picking out engagement rings the next day.
---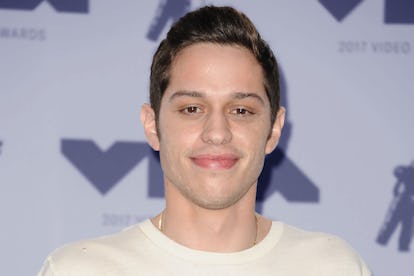 Composite. Jason LaVeris/Getty Images
To the rest of the world, Pete Davidson and Ariana Grande's engagement seemed to happen at lightning speed. But for Davidson himself, the moment actually couldn't have come quickly enough.
In a new interview with GQ, the Saturday Night Live star revealed that he knew he was going to marry the pop superstar (or as he calls her "super-famous person") from the moment he laid eyes on her.
"The day I met her, I was like, 'Hey, I'll marry you tomorrow,'" Davidson told the magazine. "She was calling my bluff. I sent her a picture [of engagement rings]. I was like, 'Do you like any of these?' She was like, 'Those are my favorite ones,' and I was like, 'Sick.'"
The comedian infamously proposed to Grande in June, only a few weeks after they began dating. He gifted her with a reported $93,000 pear-shaped diamond ring—it's unclear if it was one of the ones he sent her photos of—and the rest, as they say, is millennial fairy tale history.
And as they get ready to walk down the aisle (the wedding is "definitely going to happen, for sure," says Davidson), there's one important thing they're working on mastering together before trying their hand at married life: adulting. Shortly after the engagement, the couple moved into a $16 million Zaha Hadid–designed apartment together in New York, which Davidson reveals Grande bought for them to live in. "It's like, we have six beanbags, but we have no forks—you know what I mean?" he said. "We're learning how to be adults. We're having a really fun time."
Forks or not, Davidson couldn't be happier with his latest lot in life. "The universe works in weird ways," he said. "All I know is that I'm the luckiest guy in the world."
All of the Celebrities Who Have Gotten Married In 2018 (So Far)