Model Raven Lyn Corneil Reportedly Dating Twitter CEO Jack Dorsey
He does follow her—on Instagram, at least.
---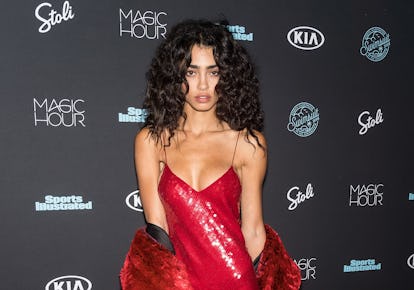 Gilbert Carrasquillo
Apparently, the trend of nabbing yourself a tech bro isn't over yet. According to Page Six, Twitter CEO Jack Dorsey has found time in between getting criticized by all sides for his handling of the contentious social network to strike up a romance with a 23-year-old Sports Illustrated model named Raven Lyn Corneil. The pair were spotted together at a Harper's Bazaar party during New York Fashion Week, but it's currently unknown how long the pair have have been seeing each other or how serious it is.
Still, the coupling shouldn't be too surprising. Supermodel Miranda Kerr is married to Snapchat founder Evan Spiegel; Karlie Kloss (quite tech savvy herself) is engaged to venture capitalist Josh Kushner; Serena Williams found a man in Reddit cofounder Alexis Ohanian; and there's, well, whatever it is that is happening between musician Grimes and wannabe real life Iron Man Elon Musk. Dorsey, 41, for his part, was previously linked to model turned actress Lily Cole. While many high-profile women seem to be in the habit of dating art bros at the moment, it turns out there's still some fish left out there in the Silicon Valley dating pond.
As for Corneil, the Minnesota native has racked up some impressive credits aside from her Sports Illustrated appearance as a member of the rookie class of 2018. She's also had credits in Vogue Arabia and costarred alongside The Weeknd and Dilone in a campaign for the singer's Puma line.
Ironically for someone allegedly dating the CEO of Twitter, you may best know her from her Instagram account, where she's racked up over 231,000 followers. The model, who according to Models.com is of mixed African-American, Puerto Rican, Irish, and Native American descent, regularly updates her followers on her exploits around the world and frequent red carpet appearances.
Indeed, in the past month alone she not only attended that Bazaar party where she was spotted with Dorsey, but also went to Rihanna's Diamond Ball, which Dorsey was attended, just a week after testifying before Congress.
As for Twitter, Corniel had only been a sporadic user until she began to somewhat regularly update her feed starting in May with this tweet (her first since August 2017):
Since then she's been on a streak of positive affirmation tweets.
Finally, at least someone who knows how to use Twitter correctly: as in, not very seriously and without managing to anger or troll anyone else.
Incidentally, while Dorsey does follow Corneil on Instagram, he does not yet appear to follow her account on his own social media platform.